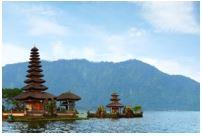 Medan is one of the well-known cities in Indonesia. It is the biggest city in the state of North Sumatra. It is a multicultural city surrounded by much breathtaking nature and bustling daily activities. It is also rich with history, cultures and delicious cuisine. It was recognized by the Dutch as Parijs van Sumatra due to the city's resemblance to Paris. It is one of the major cities in Indonesia beside Jakarta, Surabaya and Makassar. Many tourists visit this city because of its beautiful view and delicious street food. It is also famous as a busy trading city and bordered by the Strait of Malacca. The locals in this town are friendly and kind, which will make you feel at home. It is a perfect holiday destination for those who want to relax and enjoy the peace and tranquillity from nature. Bustling markets and vibrant nightlife surround it. Either you are more into shopping or exploring the nature this town has it all. There are many reasons to visit Medan from non-stop shopping to delicious street food. Medan has it all.
Best time to fly from Bandung to Medan
You can visit Medan all year round but the peak season in Medan is from the beginning of August, followed by October and June. You should check the calendar before you plan to visit this island. The price for accommodations and flights will be higher during the peak season, but you can get reasonable fares if you make early reservations. There are many fun and exciting festivals in Medan that you can participate. During those events, the venue will be filled with vibrant decorations, delicious food stations and beautiful cultural performances. As the world is still not recovering from the Covid-19 pandemic, visitors need to take extra precautions when travelling abroad. Always wear a facemask and bring your hand sanitizer. Always alert with the latest news and follow the sop required as each country will have different rules and regulations regarding this. Be extra cautious when you are in crowded places. It is advisable to plan your day earlier to avoid the crowds.
Operating airlines available in Traveloka including both domestic and international carriers. Such airlines include Firefly, Jetstar, Malindo Air, Philippine Airlines, Air France, Malaysia Airlines, Korean Air, Qantas Airlines, and many more. For further information in regards to travel safety during the pandemic can be referred to Traveloka's Coronavirus Information.
Main airports available in Bandung to Medan.
Husein Sastranegara International Airport - Husein Sastranegara International Airport is an international airport in Bandung, West Java, Indonesia. Husein Sastranegara International Airport is located within the city and 2.4 km from Bandung Central train station. The site uses an area of 145 hectares and serves the area of civil aviation in the southwestern province of Java. The airport is cojoined with the Husein Sastranegara air force base of the Indonesian Air Force. The airport is situated in the city of Bandung and is encircled by mountains; thus, the landing approach has rare characteristics. This airport runway can manage various aircraft now and, in the past, Boeing 737, certain types of Boeing 757, Airbus A320 series, and Boeing 767 series. The combined two concourses of the terminal, domestic and international, provides a total capacity of 3.50 million passengers and area of 180,000 square feet. It has many facilities like money changer counter, restaurants, various shops, free Wi-Fi inside the airport. The airports are easily accessible by public transportations. Visitors need to take extra precautions when travelling abroad. Always wear a facemask and bring your hand sanitizer. The security at the airport will be more strict than usual, so make sure you follow all the rules there.
Kualanamu International Airport - Kualanamu International Airport is an international airport that served for the city of Medan, Indonesia, and other parts of North Sumatra. It is located 24 km east in the Deli Serdang regency of downtown Medan. It is the third-largest airport in Indonesia after Jakarta Soekarno–Hatta and Bandung Kertajati. It is also the fifth busiest airport in Indonesia in 2017, as well as a 4-star airport by Skytrax. The airport is opened to the public on July 25, 2013, managing all flights and services transferred from Polonia International Airport. It was built on the location of what was earlier an oil palm plantation of company Perkebunan Nusantara II Tanjung Morawa. The airport is supposed to become the new international transit centre in Sumatra and the western part of Indonesia. It has many facilities like restrooms, money changer counter, free Wi-Fi and shops inside the airport. Hence, you can dine-in or shop while waiting for your flight. Also, there are many public transportations available in this airport for everyone to use here daily. Visitors need to take extra precautions when travelling abroad. Always wear a facemask and bring your hand sanitizer. The security at the airport will be more strict than usual, so make sure you follow all the rules there.
Climate pattern in Bandung to Medan. 
Just like any other cities in Southeast Asia, the climate in Medan is warm except during the monsoon season. If you want to enjoy outdoor activities, you can come around mid-June to September. The temperatures in Medan is ranging from 26°C up to 35°C. Make sure you check the weather forecast to avoid the monsoon season.
Highlights attractions in Medan
Hairos Water Park – If you want to cool your body from the heat, you can visit Hairos Water Park. It is one of the famous waterpark located in Medan. It is one of the biggest waterparks in Medan. It is located in Jalan Lejen Jamin Ginting. There are many attractions that you can try in this waterpark like a waterfall, wave pool, water dancing and water slide. There are many facilities in this park, including praying room and a cosy restaurant.
Tjong A Fie Mansion – Tjong A Fie Mansion is one of the popular attractions in Medan. It is an iconic Hakka merchant's house where visitors can experience how people would have lived during the 1900s. Visitors can learn more about the Hakka's heritage and architecture here. You can take a guided tour around the mansion which will take around an hour. From that tour, you can learn more about the history here with one of the experienced guides. 
Sipiso Piso Waterfall – If you love nature you can visit Sipiso Piso Waterfall. It is located in the Batak highlands of Sumatera at Lake Toba's north end. It is one of the tallest waterfalls in Indonesia. If you like an outdoor adventure like trekking, it is one of the best destinations for you. Besides that, there are several spots where you can enjoy the breathtaking view and take many beautiful photos. The trail there is wet and slippery, so safety is important. There are many facilities in this waterfall and don't forget to buy the souvenirs there. There are affordable and lovely. 
Travel Tips
Be Flexible with Your Travel Plans
Planning is a good way to go traveling, be it domestically or internationally, but don't disregard the fact that things can and most likely would not go as planned. This could either be due to suddenly the activity you want to do is unavailable or if more logistical issues force you to think of other ways to do things. Keep in mind that plan is a good base, but when you are traveling and there are a lot of external factors involved, it will be a different kind of adventure.
Bring Extra ATM & Credit Cards During Your Travel
There is a saying that doesn't keep all your money with your person when you travel, but that doesn't mean you should not bring extra money at all. Keep extra credit and atm cards with you when you travel. This will help greatly when things go south and believe me, it probably will. Keeping cards instead of cash with your person is better and safer. 
Learn Few Local Words to Blend In
This will come in handy when you are traveling to a place where English is not their first, second, or only language at all. It is best to learn some local words that can help you through the trip, especially in terms of direction, transportation, medical, and such. Plus, it will open a ton of network opportunities with the locals to be able to be among them. You will be able to make friends and discover some hidden gems you never thought you would find.
Keep Your Accommodation Address with You
This might sound ridiculous but it is important nonetheless. We tend to underestimate ourselves and assume we have it all in our heads. It is best to have it with you at all times because when you need a specific direction back, you can refer to it easily. It is best to keep it on paper as well because you will never know when the handy-dandy technology will fail you when you need it the most.
Less is Best when Traveling
We are not going minimalist here, but minimalism can help you get more things done. In order to determine how many you should bring with you, you should always go back to the question of where and what. Where are you going? What will you be doing? This will bring you back to the consideration if you do a lot of walking, then it is best to bring something you are comfortable with. The key example is to wear your everyday clothes because you know what you are comfortable with to go about your day. Don't overthink too much on a "just in case" situation because that is the number one trap to bring more with you and in the end, it will just make your bag heavier with things you can either reuse or get easier there.
Travel Insurance
Be it whether you are traveling domestic or international, it is important to gear yourself up with travel insurance. Traveloka itself provides travel insurance from Chubbs. This is pretty much self-explanatory because you will never expect what could happen when you are abroad. Even if you are traveling domestically, should things go out of your control such as accidents or sickness, you will have the leverage of insurance coverage.
Always Stay In Touch
Despite the beauty of the world, it is not necessarily a safe one. Even if you are doing a solo trip, always keep in touch with your family and/or friends. Let them have a copy of your itinerary so that they have an idea of where you are. Keep them close in contact each day and let them know when you are changing locations during your trip.
How to Book with Traveloka
Booking might be hard on certain online travel agency platforms, but Traveloka has its ways of making it easy for customers to book their flights. 
Search your flight
From either the mobile app or the desktop, you will be able to easily search for your flights by filtering the necessary information such as travel date, trip type for either one-way or return, etc.
Choose and Book flight
You will be given information about the airline name, flight schedule, and ticket price once you arrived at the flight search results page. You can further refine your searches based on the filters you set.
Fill in Contact Information and Passenger Details
If you already have an account with Traveloka, you will be able to fill in your details in advance, thus when it is time to fill in your contact information and passenger details, you can just click on the information.
Complete Your Payment
From the many payment methods available, choose one that best suits you.
Receive Your E-ticket
Within 60 minutes after your payment is confirmed, we will send your e-ticket to your email.