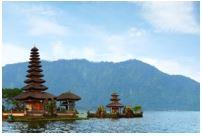 Malaysia is one of the best holiday destinations among the tourist. The best place to visit in Malaysia is Penang. Penang is a world-renowned exotic holiday destination – was known, once upon a time, as Pulau Pinang or the "Isle of the Betel Nut". Listed as a UNESCO World Cultural Heritage Site in 2008, this virgin paradise has no shortage of cultural sights and natural scenery. Nicknamed the Pearl of the Orient, Penang is famous for its soft sandy beaches and is fondly regarded as the food capital of Malaysia. Some of the most interesting sites of Penang include the sandy beaches of Tanjung Bungah, the landscape from the summit of Penang Hill and the vipers in the Snake Temple.
Best time to fly from Cebu to Penang
Average temperatures in Penang vary barely at all. The temperatures feel hot all the year with a very low chance of rain throughout the year. The best time to visit Penang for ideal weather is 30 September to 10 December. Wind in Penang is usually calm. The windiest month is January, followed by February and March. The busiest month for tourism in Penang, Malaysia is in March, followed by June and September. Prices for hotels and flights will be most expensive during these months, though you can save if you purchase well in advance. Tourists are unlikely to visit Penang in February. Those willing to visit at these times will likely find it the least expensive month.
Main airports available in Cebu and Penang
Mactan–Cebu International Airport – The Mactan–Cebu International Airport is an international airport that connects the city of Cebu with the outside world. The airport is located in Lapu-Lapu City on Mactan Island, a part of Metro Cebu. It is the second busiest international airport in the Philippines. The airlines that operate in this airport is AirAsia Philippines, Cebgo, Cebu Pacific, PAL Express, and Philippine Airlines. This airport consists of two different terminals. The Mactan–Cebu International Airport has many interesting shops and eateries within the airport so you can shop or dine in while waiting for the plane to arrive or depart. To go in and out of the airport is easy because there are many types of transportation available in The Mactan–Cebu International Airport for the visitors.
Penang International Airport – Penang International Airport (PEN) is located within the city of George Town, is one of the busiest airports in Malaysia. The airport is located near Bayan Lepas at the southeastern tip of Penang Island, 16 kilometres south of the city centre. Previously known as the Bayan Lepas International Airport, it was opened in 1935, making it the oldest airport in the country. Passengers arriving from the north will have a view of George Town, Butterworth, and both the Penang Bridge and the Second Penang Bridge. Compared to other major regional airports, waiting times for check-in and baggage claims are relatively short. The airport is not crowded, and basic facilities are available for users. Penang International Airport is a medium-sized airport with frequent connections to major cities in Asia such as Kuala Lumpur, Singapore, Bangkok, Jakarta, Medan, Hong Kong, and Taipei. It serves as the main airport for northern Malaysia.
Climate pattern in Cebu and Penang
Like any other part of Malaysia, Penang Island enjoys a warm equatorial climate. Being an island, however, its temperature is often higher than the mainland, with daytime temperatures exceeding 35 Celsius. Temperatures generally range from 29 Celsius to 35 Celsius in the daytime and from 26 Celsius to 29 Celsius in the night, with the hottest months being June to August.
Highlights attractions in Penang
Penang Interactive Museum - Penang Interactive Museum helps shake off pre-existing ideas of boring, outdated museums, instead offering visitors a fun, exciting way to view artwork with exhibits that have clever 3D imagery features. For example, a portrait of the Penang Snake Temple, with a large 3D snake slithering out from the framework.
Escape Adventureland - Escape Adventureland Penang is a cool alternative to the beach and has quickly turned into a firm favourite with outdoor adventure seekers on the island. An outdoor, eco-conscious theme park specializing in zip-lining (a pulley suspended on a stainless steel cable, tied between two trees on an incline), the park also hosts other fun jungle activities for all ages. A creative and fun way to foster a love of the outdoors, especially among kids, the park started in 2012 with standout attractions such as a free fall from a 20 meter-high jump platform, an inner tube slide and tree rope swing.
Beach Blanket Babylon - Literally turning beachfront entertainment into an art-form, a visit to Beach Blanket Babylon will leave you feeling like you have stepped into an upscale Miami open-air bar. Set adjacent to the popular 32 at The Mansion, during the day this beach bar in Georgetown offers a decent western dining menu of heartily filling dishes, priced reasonably to attract a wide variety of diners.