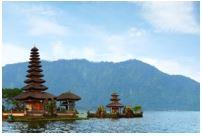 Loei is in Northeast Thailand that bordering Laos across the Mekong River. Biodiverse Phu Kradueng National Park located South of Loe. Loie is in Isan region, one of the sparsely populated provinces with the mountainous province. Mountain ranges surround the city of Loei and best-known mountains in the province are Phu Kradueng,Phu Luang, andPhu Ruea. Loei was founded by people from Chiang Saen, the capital of Lan Na according to their tradition. Khun Pha Muang founds village of Dan-kwa, and Bang Klang Hao founded Dan Sai. Agriculture such as macadamia nuts, passion fruit, and Arabica coffee that are grown in the highlands, bananas, sesame, and rubber on the plains make Loei's economy flourish. Due to its natural environment and amalgam of northern and northeastern cultures make it an ecotourism destination.
Best time to fly from Manila to Loei
The best time to visit Loie is from November to April. It is the northeastern monsoon season. Due to the wind blowing, it makes the season warmer and is the best time to do outdoor activities. Tourists visiting these months should make reservations to save on your accommodation and flight costs. From June to September are the months' rains frequently falls. It resulted in a lack of tourists. But if you visit at this time, your costs will be cheaper than other times. You need to bring the umbrella to where you go at this time. The rain is heavy, but the time of rain is brief. Before and after the rain, the weather was delightful.
Main airports available in Manila and Loei
Ninoy Aquino International Airport - Ninoy Aquino International Airport, which is known as NAIA by locals, is an international airport that serving the Manila and surrounding city. Along with the border cities of Pasay and Parañaque, The Ninoy Aquino International Airport is located there. In the south of Manila and southwest of Makati is the nearest town from the airport with 7 kilometres distance between each other. AirAsia Philippines, Cebgo, Loei Pacific, PAL Express, and Philippine Airlines are the airlines that operate in this airport. This airport consists of four different terminals. Many interesting shops and eateries have been built within Ninoy Aquino International Airport so you can shop or dine in while waiting for the plane to arrive or depart. There are many types of transportation available in Ninoy Aquino International Airport for the visitors to go in and out of the airport easily.
Loei Airport - Loei Airport is a small airport in Loei. This airport only controls domestic flights in and out of Loei. It is an airport serving Loie.
Climate pattern in Manila and Loei
Loei has a tropical savannah climate which the winter is dry and warm. The temperature rose sharply in April and the temperatures can sometimes reach up to 40 degrees Celsius. May to October is the time for Monsoon season takes place. It has rain and cold temperatures during the day. The rainy months are August and September.
Highlights attractions in Loei
Phu Ruea National Park - a national park in Loei Province which has a famous, scenic peak in the Phetchabun Mountains. Phu Ruea National Park located 52 kilometres West of Loei town. Phu Ruea mountain is 1,365 metres and the park's area is 121 square kilometres.
Phu Kradueng National Park - one of the best-known national parks of Thailand which are proclaimed as a national park on 23 November 1962. The second national park of Thailand with a high point of 1,316 m elevation.
Erawan cave - is a sacred cave that houses a large sitting Buddha. You need to climb 600 stairs to get there. You can buy supplies in case you forgot some stuff at the market been opened at the base of the cave.