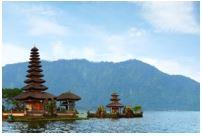 Long Banga is a small and remote village located in northeast Sarawak, Malaysia. It is situated in the province of Marudi, 589 km away from the capital state of Kuching. Miri, the nearest city, is accessible two hours away by driving. This small village is accessible via Long Banga Airport. Co-existing together in the village are two indigenous tribes of Sarawak; the Saban people and the Kenyah Leppo people. Through colonization of the British, the tribes here have mostly converted from pagan beliefs to Christianity in the 1960s.
Best Time to Fly from Manila to Long Banga
The best time to visit regions of Borneo is ideally in the dry season. In Malaysia, the dry season starts around March to early October, intercepted by monsoon from the South China Sea the rest of the remaining months. It would be best if you planned your travels during the middle of the year to ensure that you are at the peak of the dry season to lower the chances of meeting a rainfall during your trip. Downpours in the regions of Borneo can last up to hours during the dry season and up to days on end during the wet season. Floods are also a common occurrence in the regions of Borneo. Plan your travels in time to ensure your trip goes smooth-sailing.
Main Airports in Manila and Long Akah
Ninoy Aquino International Airport (MNL) – Commonly known as Manila International Airport, this air hub serves the city of Manila and the surrounding metropolitan. The airport is located 7 km away from the city centre and is the gateway for tourists going in and out of Manila. It connects Manila to all other domestic routes as well as hundreds of destinations worldwide. The airport has four different terminals. Terminal 1 serves all foreign flights except for Nippon Airways, Cathay Pacific, Emirates, Qantas Airways, Singapore Airlines, Turkish Airlines and United Airlines. Terminal 2 has the capacity of handling 2.5 million passengers annually for international flights and 5 million for domestic flights. Terminal 2 exclusively serves Philippine Airlines and PAL Express for both domestic and international flights. Terminal 3 serves all other foreign carriers for international flights. Lastly, Terminal 4 operates only domestic flights and is known as the oldest domestic wing, built back in 1948.
Long Banga Airport (LBP) – This small regional airport is serving the village of Long Banga and the surrounding area is operated solely by MASwings. This is a very small local airport with only one 550 meter runway and a single destination which is to Miri International Airport. If you are travelling from Manila, you would need to make two transit stops; one in Kuala Lumpur International airport and the next is in Miri International Airport before you make your way to Long Banga.
Climate Pattern in Manila and Long Akah
Malaysia and the regions in Southeast Asia experience a tropical rainforest climate which only has two distinct seasons; wet and dry. The dry season in Malaysia typically starts in March and last up until early October before the monsoon season from the South China Sea comes and hit the region for the remaining months. Downpours can be heavy, lasting up to hours and even days on end. Hence, travelling during the wet season is not recommended. The dry season will witness more clear days and sunny skies with an average temperature of 35 degrees Celsius.
Highlight Attractions in Long Banga
Homestay in Long Banga – The Saban and Kenyah people are extremely welcoming towards guests. They even have a slogan which translates to "Come as a guest, come back again as a family." Take a trip here and stay overnight in one of their longhouses to experience what it is like to live as an indigenous tribe in the Sarawak highland area. Watch cultural dances, unique only to the tribes as well as learn their beliefs in which they still practice until today. You will also be provided with a tour guide who speaks English.