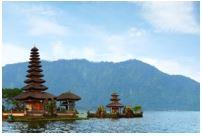 A seaport city, Balikpapan is regarded as an advanced cosmopolitan city suited for a short weekend getaway. Known across the globe for its enormous oil industry, Balikpapan also offers many other hidden gems like stunning natural sceneries of mountains, forests and beaches, unlimited shopping malls, vibrant nightlife and many more. Balikpapan is often an underrated destination compared to other big cities in Indonesia, although once you have experienced this city in its glory you will leave Balikpapan with an entirely different perspective.
Best time to fly from Cebu to Balikpapan
Balikpapan is blessed with a fantastic tropical climate, therefore, the weather is mostly pleasant all year round. The best time to fly to Balikpapan would be any time of the year. Although, as Balikpapan is situated in the Borneo island region, do expect some surprise showers and light rainfalls occasionally. If you'd like to witness some of the local Balikpapan events and festivals, there are plenty to choose from such as food festivals, events, and fairs by the beach, traditional marathons and many more.
Main airports available in Cebu and Balikpapan
Mactan–Cebu International Airport - Located in Lapu-Lapu City on Mactan Island which is approximately 15 kilometers from Cebu City, the Mactan-Cebu International Airport is the second busiest international airport in the Philippines in terms of passenger traffic. The airport serves the Central Visayas region with regular flight routes to countries all over the Asia continent. The airport terminal also plays home to airline providers such as Cebu Pacific, Pan Pacific Airlines and Royal Air Philippines.
Sultan Aji Muhammad Sulaiman Airport - Serving the city of Balikpapan and nearby areas of East Kalimantan is the airport terminal named Sultan Aji Muhammad Sulaiman Sepinggan International Airport or more commonly known by its locals as Sepinggan Airport. Sepinggan Airport is modern and provides all the necessary amenities for passenger convenience. As of today, no flight routes direct from the Philippines are offered however you may fly to Balikpapan via airlines like Cathay Pacific, Garuda Indonesia and China Southern Airlines with two or more layovers in Hong Kong, Guangzhou and locations alike.
Climate pattern in Cebu and Balikpapan
Situated on the east coast of Borneo Island, the seaport city of Balikpapan experiences a tropical climate. You will find Balikpapan in pleasant climate conditions throughout most days of the year showing little variation in weather. During February is when the city sees the warmest days and lesser rainfalls while August is the coolest.
Highlights in Balikpapan
Bangkirai Hill – Located about one hour and a half outside the main city of Balikpapan, the route to reaching Bangkirai Hill might be a very challenging one so make sure you rent an SUV with a private driver if you are not familiar with the roads. This is a natural attraction that has been maintained by the locals. The Bangkirai Hill is a tropical rainforest equipped with amenities such as restaurants, the hall for meetings, a swimming pool and jungle cottage or cabin for visitors' convenience. Bangkirai Hill is where you can surround yourself in nature and get a fantastic overview of the forest with the available tours. For outdoor enthusiasts, it is also excellent for birds and monkeys' observation.
Balikpapan's Beaches – Being a coastal city, Balikpapan sees an array of beautiful beaches. Some of the most popular beaches in Balikpapan are Manggar Beach and Lamaru Beach which are both located in the southeast of the city. Besides these, there are also the Kemala and Melawai Beach which are located on the southwest from the Balikpapan city. The activity to enjoy while you're here is relax on the sand with a fresh coconut drink and some simple beach snacks like grilled corn while waiting for the sunset over the Straits of Makassar.
Balikpapan's Local Markets – Once you are done vacationing in Balikpapan, don't forget to visit some of the local markets to do some souvenir shopping. Balikpapan has several local markets however the most popular are Klandasan Market and Kebun Sayur Market. In Klandasan Market you may find a variety of local produce ranging from fresh fruits and vegetables to freshly caught fishes, crabs, and lobsters. Whereas Kebun Sayur Market sees an array of small shops selling varieties of gemstones, jewelry, and other local crafts.