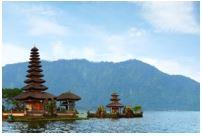 Tanjung Pandan is a district in Belitung Regency, Bangka Belitung Islands, Indonesia, as well as being the capital of Belitung Regency. Tanjung Pandan is a port city and managed by BUMN, namely PT. Pelabuhan Indonesia II (Persero), Tanjung Pandan branch. Tanjung Pandan has several banking companies which are all managed by BUMN and BUMS, namely Bank Mandiri, Bank BCA, Bank BRI, Bank BTN, Bank BNI, Bank Sinarmas, Bank Panin, Bank Muamalat, Bank SumselBabel and many more. In the telecommunications sector, Tanjung Pandan has three GSM telecommunications companies, namely Telkomsel, Indosat, and XL Axiata and one CDMA telecommunications company, namely TELKOM, whose network can be enjoyed in all corners of Belitung Island.
Best time to fly from Cebu to Tanjung Pandan - Belitung
Tanjung Pandang peak and busiest times are in June, followed by May and February. Hotel prices, as well as flight tickets, will be higher than any other month. However, if you book a flight or accommodation ticket earlier, you can still get great deals. The lesser month for travelers is November. You can get cheap airline tickets and hotels if you visit Cebu that month.
Main airports available in Cebu and Tanjung Pandan - Belitung
Mactan – Cebu International Airport - It is an airport located in Cebu. This airport is an airport that serves the Cebu area. It is located in the Central Visayas region. This airport is the second busiest airport in the Philippines after the Ninoy Aquino International Airport. This airport is situated in Lapu-Lapu City on the Island of Mactan, a part of Metro Cebu. The Mactan-Cebu International Airport Authority managed the airport. This airport is known as the first international resort airport in the world. This airport is also a hub for Cebu Pacific and Pan Pacific Airlines. With an area of 797 hectares, this airport has a single runway with a length of 3,300 m.
HAS Hanandjoeddin International Airport - Previously known as Buluh Tumbang Airport is an international airport located in Tanjung Pandan, Belitung Regency, Bangka Islands Belitung. The airport has served domestic and international flights from Belitung to Jakarta, Pangkal Pinang, Kuala Lumpur, Singapore, Bandar Lampung, and Palembang. Considering that Belitung is a new tourist destination, the airport is increasingly improving its infrastructure and services.
Climate pattern in Cebu and Tanjung Pandan - Belitung
Tanjung Pandan has a humid and hot climate. The hottest months in Tanjung Pandan is in September, August and June. However, the hottest month is in mid-June where the temperature usually around 33.3 °C during the day time while the temperature is usually around 23.3 °C at night.
Highlights in Tanjung Pandan - Belitung
Nyiur Melambai Beach – One of the famous places to visit in Tanjung Pandan, Belitung is the Nyiur Melambai Beach. This beach will offer you with a magnificent view. There are a lot of coconut trees and other green trees in the surrounding areas. Be sure to visit this beach while you are in Belitung.
Lengkuas Island – This island is one of the most visited places in Belitung. You can spend your day here on this island. There are a lot of activities that you can do when visiting this island. You can either be swimming or fishing here. Do not miss the opportunity to visit this island while you are visiting Belitung.
Tanjung Kelayang – This beach is one of the most famous beaches in Belitung. It is located 37 km from the downtown of Tanjung Pandan. There are many activities that you can do here including picnic, swimming, and many other activities. You can visit this beach with your family.