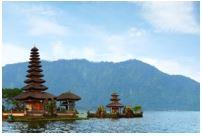 One of the best places to visit in Malaysia is Bintulu. Bintulu is a coastal town on Borneo Island in Sarawak, Malaysia's central region. Bintulu's name was derived from "Mentu Ulau" (picking heads) local native language. Bintulu was a small fishing village when it was bought in 1861 by Rajah James Brooke. Similajau National Park, Tumbina Park, Tanjung Batu Beach, Jepak Village, Kuan Yin Tong Temple, Assyakirin Mosque, Tamu Bintulu Monument, and Pasar Utama markets are among the tourist attractions in Bintulu. The city hosts the Borneo International Kite Festival every year.
Best time to fly from Cebu to Bintulu
The best times to visit Bintulu for ideal weather are 11 June to 1 July. Bintulu's average temperatures barely differ. Temperatures are warm all year round, with a chance of rain throughout most of the year, despite humidity. If you are searching for the best time to visit Bintulu, March, June, and then April are the hottest months. About mid-June, the lowest chance of rain and snow occurs. Bintulu has some highly humid months and year-round high humidity. July is the least humid month and January is the most humid month.
Main airports available in Cebu and Bintulu
Bintulu Airport – Bintulu Airport (BTU) is a smaller airport in Malaysia. You can fly to 7 destinations with three airlines in scheduled passenger traffic. The route with the most departures is the Kuching (KCH) route with an average of 35 flights each week from Bintulu, which is 30% of all weekly departures. The one international destination from here is Brunei (BWN) in Brunei. AirAsia is the largest airline here, with about 70 scheduled take-offs each week counting the number of departures. Malaysia Airlines is the second-largest carrier in Bintulu.
Climate pattern in Cebu and Bintulu
Bintulu has a tropical climate. There is significant rainfall throughout the year in Bintulu. Even the driest month still has a lot of rainfall. The annual average temperature in Bintulu is 26.6 Celsius. Approximately 3776 millimetres of precipitation falls every year. The driest month is July, with a rainfall of 239 millimetres. With a total of 446 millimetres, most precipitation occurs in December. May, with an average temperature of 27.2 Celsius, is the warmest month of the year. The average temperature in February is 26 Celsius. It's the lowest average year-round temperature. The disparity in rainfall is 207 millimetres between the driest month and the wettest month. The average temperatures differ by 1.2 Celsius throughout the year.
Highlights attractions in Bintulu
Longhouse - It is not enough for those who feel a day trip to the local fishing village to get an authentic blue local experience. Longhouses are Sarawak's traditional architecture style. Here, in the same house, hundreds of families live side by side. In a longhouse, there may be more than one hundred families living together.
Waterfront Promenade - Make a beeline for Bintulu Waterfront Promenade, the longest waterfront in Sarawak, if you're looking for a place to catch the sunset as evening draws near. Enjoy the breeze as you walk the promenade slowly along a picturesque coastal path. Sometimes, visit the observation tower on the promenade as it is a perfect point of view for gleaming sea views.
Niah Cave - Go to Niah Caves, situated in Niah National Park, for an exciting cave exploring experience. One surprising fact that you will be told by local tour guides when you enter is that the oldest human remains in Southeast Asia are in these caves. That's right, in these very caves, fossils of a prehistoric man are discovered!