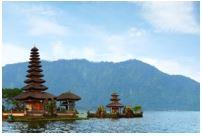 Mambajao is a third class municipality in the province of Camiguin, Philippines. In 2000, this municipality had a population of 30,806 people or 5,978 households. Politically Mambajao is divided into 15 smaller districts, namely Agoho, Anito, Balbagon, Baylao, Benhaan, Bugs, Kuguita, Magting, Naasag, Pandan, Poblacion, Soro, Tagdo, Tupsan, Yumbing, and Umycco. Camiguin is a province in the Philippines. The capital is Mambajao. This province located in the Northern Mindanao region. The province has an area of ​​237.95 km² with a population of 81,293 inhabitants according to the census conducted in 2007. This province has a population density of 342 people/km².
Best time to fly from Cebu to Camiguin-Mambajao
The peak and busiest times of Mambajao are in January followed by September and May. Hotel prices, as well as flight tickets, will be higher than any other months. However, you can still get great deals if you book a flight or accommodation ticket earlier. The lesser month with travelers is in June. You can get cheap flight tickets and hotels if you are visiting Mambajao that month.
Main airports available in Cebu and Camiguin-Mambajao
Mactan-Cebu International Airport - This is an airport in Cebu. This airport is an airport that serves the Cebu area. It is in the Central Visayas region. This airport is the second busiest airport in the Philippines after Ninoy Aquino International Airport. This airport is in Lapu-Lapu City on the Island of Mactan, a part of Metro Cebu. The Mactan-Cebu International Airport Authority managed the airport. This airport is known as the first international resort airport in the world. This airport is also a hub for Cebu Pacific and Pan Pacific Airlines. With an area of 797 hectares, this airport has a single runway with the length of 3,300 m.
Camiguin Airport - This is an airport that serves the general area of Mambajao which located on the Camiguin province of the Philippines. Camiguin Airport is the only airport available in the Camiguin province. The Philippines Civil Aviation Authority classified this Camiguin Airport as a class two principal airport. The Civil Aviation Authority of the Philippines is one of the bodies in the Department of Transportation and Communications. It is responsible for all of the airport in the Philippines. Camiguin Airport has one runway with 1,202 m long. There are several airlines providing flights to this Camiguin Airport, such as Cebu Pacific, Philippine Airlines, and SkyJet.
Climate patterns in Cebu and Camiguin-Mambajao
According to the climate classification by Koppen, Mambajao has a tropical climate. The average annual temperature in Mambajao is 27 °C. The hottest month in Mambajao is in May where the temperature can reach as high as 33.3 °C during day time while rarely dropping below 23.2 °C at night.
Highlights in Camiguin-Mambajao
Katibawasan Falls - This waterfall is one of the famous attractions in Mambajao. This waterfall is usually full of tourists as well as the locals. This fall features a 70-meter waterfall. It is genuinely one of treasured-nature here in Mambajao. Be sure to visit this waterfall while you are in Mambajao.
White Island - This While Island is 1.4 km from the North shore of Mambajao. The scenery awaits you here is magnificent. You can spend your day to come to this White Island to explore the island and beach.
Mount Hibok-Hibok - It is a stratovolcano located in Camiguin Island in the Philippines. If you are up for challenging activities, you can go hiking or jungle trekking at this mount. You will undoubtedly get a new experience here in Mambajao.