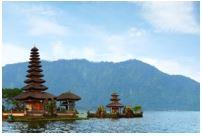 Indonesia or known as The Emerald of the Equator which is rich in natural and cultural wealth has a lot of surprise for everyone who is looking for a new adventure or gateway in their life and one of the best city to start is the city of Semarang. The main city of Semarang is a port city on the north coast of Java, Indonesia. Its old quarter features Dutch colonial architecture including the landmark Lawang Sewu, a massive building that was the railway company's headquarters. Sam Poo Kong, a 15th-century temple, is a prominent site in Chinatown. The modern city centres around Simpang Lima, a tree-lined green space in the commercial district. Its holds the past and the present of Indonesia for the curious mind of everyone.
Best time to fly from Cebu to Semarang
The very warmest time to visit Semarang, the hottest months are October, September, and then May. The warmest time of year is generally mid-October where highs are regularly around 94.4°F (34.7°C) with temperatures rarely dropping below 76.3°F (24.6°C) at night. During fall, humidity and temperatures combine to make this season feel warm. Highs range from 91.2°F (32.9°C) and 87.4°F (30.8°C) with similar temperatures in the later months. Fall is fairly slow for tourism, which makes it a good time for those looking for deals. The middle-year months have very comfortable weather with high temperatures that are quite warm. June – August is the slowest season for tourism in Semarang, so lodging and other accommodations may cost less than usual. Spring daily highs range from 94.4°F (34.7°C) and 89.8°F (32.1°C), which will feel very nice given the humidity and wind. Tourism is the busiest during these months due to the weather so that hotels may be higher priced. Weather is perfect this time of year in Semarang to be enjoyable for warm weather travellers. The average high during this season is between 88.9°F (31.6°C) and 86.3°F (30.2°C). These times of year are the second busiest with tourists.
Main airports available in Cebu and Semarang
Mactan–Cebu International Airport – The Mactan–Cebu International Airport is an international airport that connects the city of Cebu with the outside world. The airport is located in Lapu-Lapu City on Mactan Island, a part of Metro Cebu. It is the second busiest international airport in the Philippines. The airlines that operate in this airport is AirAsia Philippines, Cebgo, Cebu Pacific, PAL Express, and Philippine Airlines. This airport consists of two different terminals. The Mactan–Cebu International Airport has many interesting shops and eateries within the airport so you can shop or dine in while waiting for the plane to arrive or depart. To go in and out of the airport is easy because there are many types of transportation available in The Mactan–Cebu International Airport for the visitors.
Ahmad Yani International Airport – It is an airport that serves the city of Semarang, in Central Java, Indonesia. The airport is named in honour of Ahmad Yani, who is a National Hero of Indonesia. It is one of the fastest-growing airports in the world by a number of passengers. It became an international airport with the first flight of Garuda Indonesia to Singapore in August 2004. The airport is operated by PT Angkasa Pura I, a state enterprise of the Indonesian Ministry of Transport that manages airports in the eastern part of the country.
Climate pattern in Cebu and Semarang
The climate in Semarang is hot, oppressive, and overcast. Over the year, the temperature typically varies from 75°F to 92°F and is rarely below 72°F or above 96°F. The temperature in Semarang varies so little throughout the year that it is not entirely meaningful to discuss hot and cold seasons. In Semarang, the average percentage of the sky covered by clouds experiences significant seasonal variation over the year. The clearer part of the year in Semarang begins around May 9 and lasts for five months, ending around October 8 while the cloudier part of the year begins around October 8 and lasts for seven months, ending around May 9. The tourism score favours clear, rainless days with perceived temperatures between 65°F and 80°F. The best time of year to visit Semarang for general outdoor tourist activities is from mid-June to mid-September, with a peak score in the first week of August.
Highlights attractions in Semarang
Karimunjawa National Park – Located at as a coastal city, the beaches you'll find in Semarang are not precisely 'sun, sand, and sea'. But if you travel 90 kilometres north, you will find a cluster of 27 islands just waiting to be explored, most of them are uninhabited. Far from the effects of fast-moving capitalism, laid-back island life is preserved in Karimunjawa, with eateries serving home-cooked seafood dishes and homestays as standard accommodation options on the main island. Initially a nature reserve, Karimunjawa boasts of a massive collection of marine flora and fauna, from a kaleidoscope of tropical fish among coral reefs to the birds that encircle above. There's more than just endless stretches of sandy beaches at Karimunjawa. Bukit Joko Tuwo, the highest peak on the main island, provides a vantage point where you can get a panoramic view of the island.
Brown Canyon – Located half an hour into the countryside, there are practically no road signs that can direct you since Brown Canyon is not an official tourist destination. You will need a capable vehicle and a local guide to show the way if you are unable to ask for directions in Bahasa Indonesia. In the remnants of quarries just outside the city and decades of mining by explosives and heavy equipment has left its almost-natural mark, sculpting walls and pillars that tower tens of metres in height – a taste of Arizona's Grand Canyon right here in the middle of Java. These quarries have carved out a series of trails around the site, making out ideal cycling tracks for adrenaline junkies.