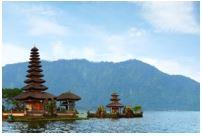 Undeniably a remarkable holiday destination that is in West Java, Bandung is the third-largest municipality in Indonesia. You will be surprised to see a vast green plantation spreads before your eyes even though you are still in a city. Take a walk exploring Bandung, enjoying the view of its misty dead volcanoes, feeling the cold wind brushing your skin. While you are there, do not forget to check out Factory Outlet that sold designers' merchandise at incredibly low prices!
Best time to fly from Davao to Bandung
The best time to swing by Bandung is in between June to September during the dry season. The weather is very favourable in that period because less rain and cold mountainous climate will not disturb any planned outside activities. Because of the clear sky and less rain, the traffic and road systems are much better because rains usually disrupt the whole traffic in Bandung. You might want to avoid coming to Bandung during the wet season which generally falls from October to March. Although the weather is colder, the constant rainfall makes the traffic becomes packed due to clogged roadways.
Main airports available in Davao and Bandung
Francisco Bangoy International Airport – Sometimes referred to as Davao International Airport with IATA's code – DVO, the airport is Mindanao's busiest airport and the third most active airport in the entire the Philippines. Located about 30 minutes from Davao City, there are two means of transportation you can take to reach here – taxis or jeepneys. Well-equipped with many kinds of facilities, Francisco Bangoy International Airport has restaurants, lounge areas and stores that can ease the passengers' journeys.
Husein Sastranegara International Airport – The Husein Sastranegara International Airport is located in Bandung, Indonesia. Nestled about 2.4 kilometres from Bandung Central station, the airport can be reached using private and public transports. The airways that operate here are Citilink, Indonesia AirAsia, Lion Air, Wings Air and XpressAir. This airport is now one of the airports that serve Bandung, where the other one is Kerjati International Airport. The facilities there are complete with restaurants, bookstores, coffee/tea shops, shopping arcades, ATM and executive lounges.
Climate pattern in Davao and Bandung
Bandung has a tropical rainforest climate which has two seasons – wet and dry. The dry season begins in June and ends in September. On this period, the precipitation is low, but the weather is still cold for outdoor activities. Due to its highlands, Bandung does not experience extremely hot weather like any other region in Indonesia, and the average temperature of Bandung ranges 21 to 22 degree Celsius. The favourable weather attracts more tourists, where it can result in soared prices. Do plan your trip early, purchase your airline tickets and make your hotel bookings early to avoid spending over than your budget.
Highlights attractions in Bandung
Kawah Putih – Kawah Putih is a lake that formed after Mount Patuha erupted and left a whole wide white crater. Translated as White Crater, this place seems magical. The powdery sands, light turquoise water changes its colour according to the weather or conditions in that area. The beauty of Kawah Putih is out of the world. The crater with a few dark green plantations with the light coloured lake is a view that you want to see it yourself.
Hot Spring Water Park – In Ciwidey Valley Resort, they have hot spring pools meshed with a waterpark. Children and adults will have enormous fun here. Most children would not enjoy the dull, hot spring where you just lay inside the pool. The trick here is when the children are playing with water slides, the adults will soak themselves in the hot spring water without having to watch the children!
Factory Outlets – Often called Indonesia's shopping heaven, this Factory Outlets are selling clothes, including designers' brands, to the lowest price you could ever find. Most of the clothing here is sold cheap due to minor defects and surplus merchandise. There are more than 40 factory outlets like Heritage, The Secret and Rumah Mode where you can find designer's brands such as Marc Jacobs, Gap, Nike, Zara and Armani. The prices are an absolute steal!