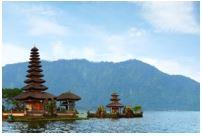 Bangkok is globally known as one of the best cities in the world with lots of attractions await. Bangkok, locally known as Krung Thep or internationally known as City of Angels, is the heart of Thailand. From visiting the Grand Palace, admiring the beautiful architecture of the temples and trying locals' cuisines, Bangkok is one of the destinations that one should visit at least once in their life!
Best time to fly from Bangkok
The best time to visit Bangkok is from November to February. This is Thailand's cool season, with daytime temperatures marginally below 30 ° C and relatively low humidity. This is also Thailand's peak tourist season, which means that overall prices are slightly higher. The rainy season of Bangkok lasts from July to October. Although some people expect unrelenting rain the whole day, the rainy season is usually a mixture of dry, overcast weather and late afternoon rainstorms. When it is not raining, it's still easy to enjoy the sights and attractions of Bangkok. You will get the best value for money by visiting Bangkok during the rainy season when the hotel rooms are marked down. From November to February, when hotel bookings and prices are at their highest, you pay the most to visit Bangkok. Several major holidays take place in Bangkok throughout the year, from the Chinese New Year to Songkran.
Main airports available in Bangkok
Suvarnabhumi Airport - Suvarnabhumi Airport Terminal or unofficially known as Bangkok Airport, is approximately 30 kilometres (19 miles) east, half an hour from the huge Bangkok CBD area, depending on traffic and time of day. The most direct route is via the highway between which there is a toll of PHP118 and an airport tax of PHP85– a total of PHP200. The airlines operating at this airport are Cebu Pacific, Thai Airways and Philippine Airlines. This airport consists of three different terminals. Suvarnabhumi Airport Terminal has many interesting shops and restaurants within the airport, so you can shop or dine in while waiting for the plane to arrive or depart. It is easy to get in and out of the airport because there are many types of transportation available to visitors at Suvarnabhumi Airport Terminal.
Don Mueang International Airport - Don Mueang International Airport is one of two international airports serving Bangkok, the other being Suvarnabhumi Airport. Before the opening of Suvarnabhumi in 2006, Don Mueang was previously known as Bangkok International Airport. It takes approximately 40 minutes to get to Bangkok depending on traffic and time of day. The only airline operating at this airport is Philippines AirAsia. This airport consists of three different terminals. Don Mueang International Airport has numerous interesting shops and restaurants, so you can shop or dine in while waiting for the plane to arrive or depart. It is easy to get in and out of the airport because there are many types of transportation available to visitors at Don Mueang International Airport.
Climate pattern in Bangkok
Bangkok has a warm rainy climate, but it also has a dry season. Bangkok has a dry season between November and February, which ensures that it is also the busiest time. The daily maximum temperature is above 30 degrees Celsius (86 Fahrenheit) year-round. The Bangkok rainy season runs from June to October. You can expect short periods of rainy weather at this time of year, with heavy rainfall mainly occurring in the afternoon. Approximately 90% of the rainfall falls during this time of year. Luckily, even during the rainy season, Bangkok still receives plenty of sunshine. Most of the rains fall from August to October in Bangkok.
Highlights attractions in Bangkok
The Grand Palace - The Grand Palace is a complex of buildings in the centre of Bangkok, Thailand. Since 1782, the palace has been the official residence of the Kings of Siam. The king, his court, and his royal government were founded on the grounds of the palace until 1925. There are several remarkable buildings within the palace complex, including Wat Phra Kaew (Temple of the Emerald Buddha), which houses a small but prominent and highly admired Emerald Buddha dating back to the 14th century. The entrance fee is approximately PHP840 but frets not, the cost includes an admission ticket to Vimanmek Mansion and a few other attractive places in the area as well.
Temples - The temples of Bangkok are a unique part of the capital's heart and soul. A visit here would not be complete without visiting at least a few of them. The best time to visit most temples is in the early morning hours. It's cooler and, in general, less crowded. Temples are not only tourist attractions, but they also play an important role in Buddhist traditions. Some of the temples are Wat Saket is Wat Benchamabophit.
Bangkok National Museum - The National Museum of Bangkok is the central branch museum of the National Museums of Thailand and one of the largest museums in Southeast Asia. Founded by King Rama V in 1887, it offers exhibitions of Thai art and history. It is situated in the former palace of the Vice King, between Thammasat University and the National Theater, facing Sanam. The National Museum houses a vast collection of artefacts and antiques developed throughout Thailand, divided into periods: from prehistoric times to old kingdoms (Srivijaya, Dvaravati, Khmer Kingdoms, Sukhothai, Ayutthaya) and the new Rattanakosin age. These include Neolithic axes, painted pots, bronze items, Buddhist stone sculptures, bronze and terracotta. For those who appreciate arts, ancient artefacts and antiques, Bankok National Museum is absolutely a must-visit.