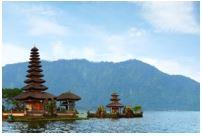 Bangkok is everything you'd expect from the capital of Thailand: it's noisy, crowded, colourful, exciting, infuriating, and smile-inducing. There are ancient sites to be visited and modern shopping malls that have a kitschy yet high-end ambience. Bangkok can be overwhelming as its lifeforce smacks you in the face, but it's a fascinating city that represents Southeast Asia's tension between the developed and developing worlds. Bangkok also serves as a gateway to many other parts of Thailand. From here, you can hop a short flight to Phuket, Chiang Mai, Koh Samui, and other popular destinations. You can also board a train or hop on a bus for little money, and visit national treasures such as Ayutthaya, Lopburi, and many other gems of the country.
Best time to fly from Cagayan de Oro to Bangkok
Bangkok is busy year-round, which means no matter what season you arrive, you're bound to have to battle the crowds, though there are times that are worse than others. One of the biggest festivals of the year is Songkran (Thai New Year), which takes place in mid-April, bringing especially thick crowds, while Christmas and the New Year holidays also see a big increase in visitors to the city. While it won't make a huge difference, late November and early December may be the best time to visit Bangkok, when the city is drying out from the monsoon season and experiencing a slight cool down, and the holiday crowds have yet to arrive. September and October are Bangkok's (and Thailand's) rainiest months. The best weather for Thailand's beaches and islands is December to March, so if you're combining Bangkok with a visit to one of the southern islands, then this is the best time for sunny, dry weather. More important than time of year when visiting Bangkok, try to visit the most popular attractions early in the morning for the smallest crowds, coolest temperatures, and best experience.
Many airports available in Cagayan de Oro and Bangkok
Laguindingan Airport - As of 2019, Laguindingan was the sixth-busiest airport in the country, with an estimate of two million passengers passing through it. The airport has a single 2,100 m x 45 m runway, which can accommodate four take-offs and landings an hour. It features a 7184 m² passenger terminal building that can accommodate 1.6 million passengers a year. The airport can accommodate 2,000 passengers a day.
Suvarnabhumi Airport - also known unofficially as Bangkok Airport, is one of two international airports serving Bangkok, Thailand. The other one is Don Mueang International Airport, which was the main international airport from 1924 to 2006 and transitioned in 2007 to become the low-cost airlines' hub for Bangkok. Suvarnabhumi covers an area of 3,240 ha (32.4 km2; 8,000 acres), making it one of the biggest international airports in Southeast Asia and a regional hub for aviation. The airport is currently the central hub for Thai Airways International, Thai Smile Airways, and Bangkok Airways. It also serves as a regional gateway and connecting point for various foreign carriers. The airport inherited the airport code, BKK, from Don Mueang after the previous airport ceased international commercial flights. The modern Motorway 7 connects the airport, Bangkok, and the heavily industrial eastern seaboard of Thailand, where most export manufacturing takes place.
Climate pattern in Cagayan de Oro and Beijing
The climate here in Cagayan de Oro is tropical. Cagayan De Oro has significant rainfall most months, with a short dry season. This location is classified as Am by Köppen and Geiger. In Cagayan De Oro, the average annual temperature is 26.7 °C. The average annual rainfall is 1771 mm. A tropical monsoon climate dominates the weather in Bangkok. It means the city has three main seasons: hot season from March to June, rainy season from July to October and cool season between November and February. As Bangkok holds claim to be the hottest city in the world, expect daytime temperatures to be over 30 degrees centigrade throughout the year. The possible exception to this is in late December and early January.
Highlights attractions in Bangkok
Grand Palace - If you only visit one major historical tourist attraction in Bangkok, this should be the one. The royal compound lives up to its name, with spectacular structures that would put the most decadent modern monarchs to shame. It's also the home of Wat Phra Kaeo, which houses the Jade (or Emerald), Buddha. It was built in 1782. The grand palace was the royal residence for generations and is still used for important ceremonies and accommodating heads of state. Dress modestly when visiting the Grand Palace, which means covering your arms and legs and avoiding any sloppy attire.
Wat Pho - Located immediately south of the Grand Palace precinct, Wat Pho makes an excellent addition to your tour, provided your feet are up for more walking. Also known as or Wat Chetuphon), the temple was built by King Rama I and is the oldest and in Bangkok. It has long been considered a place of healing and was famous centuries ago for its pharmacy and as Thailand's first "university," both established by King Rama III. You can get a Thai or foot massage at the traditional medical school on the premises, but the prices are significantly higher than what you will find at massage parlours elsewhere in the city. Today Wat Pho is best known for the Temple of the Reclining Buddha, where you'll find a statue so big (45 m long and 15 m high), it cannot be viewed in its entirety only appreciated in sections. The soles of the feet, inlaid with a myriad of precious stones, are particularly impressive with the 108 signs of true faith. Also, look for the long earlobes signifying noble birth, and the lotus-bud configuration of the hand to symbolize purity and beauty.
Wat Arun - Wat Arun is something of a triumphant complex, dating back to ancient battles between the former Siam and Burma. Having fallen to the Burmese, Ayutthaya was reduced to rubble and ashes. But General Taksin and the remaining survivors vowed to march "until the sun rose again" and to build a temple there. Wat Arun, the Temple of the Dawn, was that temple. It is where the new king later built his royal palace and a private chapel. If you climb to the top of the prang just before sunset, you are rewarded with an unforgettable view as the sun sinks over the Chao Praya River. Even if you don't plan to be doing any climbing, sunset is the time to take in this place in all its glory.