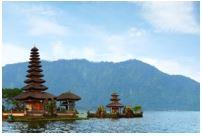 Solo is undeniably the foundation of Javanese identity and tradition. Thanks to its history, the city of Solo has a unique character to it. Compared to its more modern and cosmopolitan neighbour, Yogyakarta, Solo is considered as less touristy, therefore making it a green place to visit where the authentic Solo experience can still be found there. With kampung streets, traditional markets, malls and rich tradition, Solo has something interesting to offer to visitors.
Best time to fly from Cebu to Solo
Don't want to be drenched in the rain? You might want to visit during the months with the lowest chance of significant precipitations which are July, August, and then September. By contrast, it's most likely to rain or snow in late January and early February. The busiest month for tourism in Solo, Indonesia is in November, followed by January and May. If you want to skip the crowd, it is recommended to visit Solo in July.
Main airports available in Cebu and Solo
Mactan-Cebu Airport - Mactan-Cebu Airport is located in Lapu-Lapu city. This airport is the second busiestinternational airportin thePhilippines and also the world's first international resort airport and is the main base ofCebu Pacific,Pan Pacific Airlines, andRoyal Air Philippines. This airport handles flights to domestic and international destinations such as Dubai, EL Nido, Busan, Seoul, Singapore, Manila and many more. Some of the airlines that operate here are Emirates, EVA Air, Scoot, Sichuan Airlines, to name a few. There are a lot of facilities at this airport such as restaurants, shops, ATMs, money changer and many more. To get to the city, travellers can choose between taxis, bus and car rentals services. MyBus operate the bus with an interval of 20 minutes between buses.
Adisumarmo International - Adisumarmo International (SOC) is the main airport located inBoyolali Regency,Central Java, Indonesia. It is located 14km north ofSurakartacity.[1]It is the main airport of Boyolali and Surakarta and the surrounding area, also known as Solo Raya. In case of any natural disaster or disruption, this airport also serves as an alternative airport toAdisutjipto International AirportinYogyakarta. This airport serves flights to domestic locations such as Denpasar, Surabaya, Jakarta, Bandung and during the Hajj season, also includes Jeddah. Some of the airlines that operate here include Citilink, Batik Air, Indonesia AirAsia and Nam Air. There are amenities available at this airport such as ATMs, shops, restaurants and customer service counters. There are shuttle airport buses available at this airport serving several destinations from Adisumarmo International Airport. Currently, it is operated by Damri bus company.
Climate pattern in Cebu and Solo
The average temperatures in Solo vary barely at all. The temperature feels hot all year with a fair chance of precipitation about half of the year. If you prefer to visit during the very warmesttime to visit Solo, the hottest months are October, May, and then September where the temperature can reach 34.1°C and drops below 25.2°C at night.
Highlights in Solo
House of Danar Hadi - Danar Hadi is claimed to be one of the world's best batik museums. 1078 pieces from a collection of 11,000 batiks are handpicked from the owner's private collection and showcased throughout the 11 rooms of this grand colonial building. You can join the guided tour which covers the highlights among the antique and royal pieces on display. There will also be a demonstration of the craft. However, no photography is allowed inside the museum.
Kraton Sukarta – Kraton can be translated into a royal palace in English. Kraton Surakarta was once the hub of an empire in 1745. However, it is now mostly destroyed due to a fire in 1985, but there are still buildings that were rebuilt inside. It is always worth a visit, as this site is a significant location in Solo's history. One of the attractions here is the Sasono Sewoko Museum.
Triwindu Market – Also known as Pasar Triwindu, this market is the hub for antique items in Solo. The market is located in the city centre and is perfect for antique lovers. There are many items from Javanese daggers, leather puppets to decorations, and many more. It is crucial to keep an eye out for fake products here. However, shopping in Pasar Triwindu is still an enjoyable experience. If you are not looking forward to buy anything, a stroll along with the marketplace and taking some lovely photos, there is worth it.