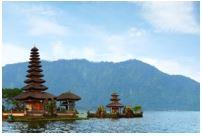 Taichung is the second-largest city in Taiwan after Taipei. It has a total population of over 2.8 million people. The name Taichung was given by Japanese which means "Central Taiwan". It is located in Taichung Basin, the central-western of Taiwan. Taichung serves as the economic hub since it has many types of industries from manufacture to retail sector. Besides that, this city is endowed with interesting culture and rich historical sites. Moreover, it provides the best nightlife scene and numerous shopping malls and night markets. Taichung is also famous for its local delicacies such as Bubble Tea and Suncakes.
Best time to fly from Cebu to Taichung
The peak season in Taichung happens from October to March. Whereas, the low season will start from April to September. Taichung gets a lot of visitors during the peak season because the weather is mild and rainfall rarely occur. Vice versa with the low season. Due to intensely hot and humid weather, especially from June till August, the number of visitors coming to Taichung becomes lesser. To avoid the hot weather, the best time to visit Taichung is from October to March. The visitors can comfortably visit many places and attend a few festivals that are happening in between these months.
Main airports available in Cebu and Taichung
Mactan-Cebu International Airport (CEB) - Mactan-Cebu International Airport serves for the area in the region of Central Visayas. It completes with a single runway and two different passenger terminals. This airport operates a lot of international and domestic airlines including Cebu Pacific, Korean Air, Philippine Airlines, Scoot, SilkAir and many more. This airport also handles for two cargo airlines; FedEx Express and Tri-MG Intra Asia Airlines. The distance between Mactan Cebu International Airport and Cebu City is about 14.5 kilometres. By taking a taxi, the taxi fare will cost around PHP 520.
Taichung International Airport (RMQ) - Taichung International Airport is the main international airport for Taichung City area. It serves for commercial and military flights. This airport only handles airlines that make their destination to Thailand, Vietnam, China, Japan and South Korea. Among the airlines are Cathay Dragon, EVA Air, Mandarin Airlines, Thai Vietjet Air, Uni Air, Vietnam Airlines and many more. Taichung International Airport is located about 15.6 kilometres from the city centre. Taxi is the easiest option to get to Taichung City. The taxi fare will be around TWD 700, which is about PHP 1169.98.
Climate pattern in Cebu and Taichung
Cebu has a tropical wet and dry climate while Taichung experience a warm, humid subtropical climate. Generally, the weather in Taichung is warm and temperate in all year round. The average annual temperature in this city is 22.1 degrees Celsius. A lot of visitors flocking around this city from October to March because the weather is not hot and less humidity. Moreover, less probability of rainfall happens during this period. Meanwhile, starting from April till September, this city will face extremely hot and humid weather. The rainfall also frequently occurs throughout the period.
Highlight attraction in Taichung
Feng Chia Night Market - Feng Chia Night Market is the largest night market in Taiwan. It is also the most famous market in town. It is very packed with a lot of people during the weekends and holiday season. This market is located in Xitung District, which includes Fengjia Road, Fushin Road, Xian Road. The visitors can find a lot of stalls selling local snacks and drinks. There are also many boutique shops and games to play. Most of the clothes that sell in this market are given at a reasonable price. For those who want to have a heavy meal, there are a few restaurants within this area. Besides that, visitors can easily find a parking spot since the government has built many parking areas.
Wuling Farm - Wuling Farm is one of the top tourist spots in Taichung. The area of this farm is more than 700 hectares. This farm features high mountain tea, fruit and vegetables plantation, fishes and flowers. Every spring season, loads of visitors coming to this place to see the cherry blossoms and other types of beautiful flowers. The visitors can have a look at amazing scenery of mountains near this farm. Shei-Pa National Park is also a part of this farm. For visitors who like hiking, there are a lot of routes that can lead them to the mountains. Apart from that, the visitors can choose to stay overnight at campsites, chalets or hotels provided by Wuling Farm.
Rainbow Village - Rainbow Village is well-known for its colourful painted house and streets. A 96-year-old man named Mr Huang is the one who created Rainbow Village. Back then, he painted and do artworks on his house and the streets because developers plan to demolish this village. Now, it has become one of the Instagram-able spots in this city. The visitors can take lots of pictures with the spectacular artworks. The visitors will also have a chance to meet Mr Huang in person. As the visitors walk around the street, the visitors can chill themselves at café or buy some snacks at one of a few food stalls. There are also souvenir shops where the visitors can purchase goods with Mr Huang's artwork on it.