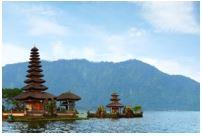 Makassar is the capital of South Sulawesi, Indonesia. It is the fifth-largest city in Indonesia after Jakarta, Surabaya, Bandung and Medan. Compared to the other famous cities, Makassar has its own attraction. This city is nestled at the coastline of Makassar Strait and it is popular for its port which serves domestic and international ships. The bustling city that stretches alongside the coast provides a beautiful view, especially at night. The city covers up a land area of 199 square kilometres with a total population of over 1.7 million inhabitants. Restaurants and hotels are the largest kind of service sector that contribute to its economy, followed by transportation and communication. It also indicates that tourism is popular in Makassar.
Best time to fly from Davao to Makassar
The best time to travel to Makassar and tour around the city is between July to October. This is based on the weather where this period, July to October, records a lesser chance of rainfall compared to the other period. August marks the driest month in Makassar. Therefore, this period is the best time to enjoy the outdoor activities offered in the city as well as the islands nearby.
Main airports available in Davao and Makassar
Francisco Bangoy International Airport – Francisco Bangoy International Airport is its official name, but it is popularly known as Davao International Airport. It is the third most popular and busiest airport in the Philippines. Each terminal, domestic and international, is equipped with 14 checks in counters, two departure halls ad two baggage conveyers to ensure smooth flow of passengers of the airport. From Davao, you will have to take the transit flights to get to Makassar. Silk Air provides transit flights with two transit points, which are Cebu Airport and Singapore Changi Airport.
Sultan Hasanuddin International Airport – Sultan Hasanuddin International Airport is a dually used airport located about 20 kilometres away from the city centre of Makassar. It serves as the main gateway for air transportation to Makassar and the neighbouring region. It handles over 17 local and international airlines that provide flights to various domestic and international destinations.
Climate pattern in Davao and Makassar
Davao and Makassar are both influenced by the tropical climate. A slight difference is seen when Davao is classified under tropical rainforest while Makassar is classified under a tropical monsoon climate. It could be due to its geographical that faces the Makassar Strait. Davao has an average annual temperature of 27 degree Celsius while Makassar is slightly cooler with a reading of 26.2 degree Celsius. As for the average annual precipitation of rainfall, Davao records a reading of 1878 mm and Makassar records a very higher reading of 2875 mm. Therefore, before flying to Makassar, make further reading on the weather, especially about the dry and wet seasons so you could enjoy strolling around the town with utmost comfort.
Highlights attractions in Makassar
Indonesia is famous for its natural beauty attraction spots that can draw interest from foreign tourists of all over the world. In Makassar, there are many distinctive places to visit. Among them are;
Lanjukang Island – Lanjukang Island is one exquisite place located 40 kilometres away from Makassar city centre. Due to its unpopular visit, it still does not have regular public transportation to the island. Visitors to the island need to plan and book a boat in advance to get there. This untouched tourist attraction provides the best serenity and island view.
Watansoppeng – Watansoppeng is a town and it offers an extraordinary attraction in Makassar. It is popular as the 'bat city'. It is because you can see the bats are everywhere on the air of this city. During the day, the bats will hang on the trees of the city for sleep. While at night, the bats will fly freely all over the town thus naturally making this city look lively.
Takapala Waterfall – This is the highest waterfall in Makassar. The water is very cold and refreshing. The high waterfall is surrounded by lush greenery and rocks. It is not advisable to swim at the waterfall point to avoid unwanted injury, but you can soak your body in the cold water. To get to this waterfall, it takes you about 2 hours journey by car.