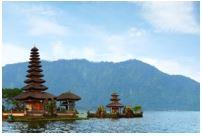 Situated in the southern tip of Sumatra, Bandar Lampung was originally two major cities known as Teluk Betung and Tanjung Karang that was united in 1983 to become the name it is known by now. As well as acting as the gate of Sumatra from Java, the city is also rich in culture and diversity. This can be reflected in its people and the variety of local foods. Besides that, this coastal city is also jammed packed with natural attractions from beaches, waterfalls to rainforests and man-made monuments that have become Bandar Lampung's popular landmark.
Best time to fly from Cebu to Bandar Lampung
Weather-wise, Bandar Lampung is accessible all year round due to its pleasant temperatures and tropical rainforest climate. However, the ideal period of visiting this coastal city would be during the month of July when the annual Krakatau Festival is being celebrated. The entire city comes to life during this festival. Visitors will be fortunate to see a vibrant parade of performers in their traditional costumes.
Main airports available in Cebu and Bandar Lampung
Mactan–Cebu International Airport – Located in Lapu-Lapu City on Mactan Island which is approximately 15 kilometres from Cebu City, the Mactan-Cebu International Airport is the second busiest international airport in the Philippines in terms of passenger traffic. The airport serves the Central Visayas region with regular flight routes to countries all over the Asia continent. The airport terminal also plays home to airline providers such as Cebu Pacific, Pan Pacific Airlines and Royal Air Philippines.
Radin Inten II Airport – The primary airport that serves the province of Lampung is known as Raden Intan II Airport. The airport terminal operates daily scheduled domestic flights to major Indonesian cities such as Jakarta, Batam Island, Palembang and Bandung besides many others. The airport provides legit and reliable taxi services that can connect you easily to the city centre.
Climate Pattern in Cebu and Bandar Lampung
Bandar Lampung alike most cities in Indonesia experiences a tropical rainforest climate. As the city is situated in a coastal area, Bandar Lampung's temperatures can go very high during the day but then dropping quickly in the evening. There are barely any weather variations throughout the year, the climate generally remains hot and humid with occasional rainfall. Bandar Lampung welcomes the warmest temperatures during May, September and October.
Highlights attractions in Bandar Lampung
Puncak Mas – One of the trendiest places to visit in Bandar Lampung is the Puncak Mas, it is also a great place to get an overview of the city. Located just 20 minutes away from the main Bandar Lampung area, Puncak Mas can be found on Jl. Haji Hamim RJP. The attraction is family-friendly and usually packed on the weekend. It displays an array of treehouses, cute towers, and colourful flight of stairs, cabins and other decorative photogenic spots. The Puncak Mas is gorgeous to visit during the day but is especially beautiful during the evening when the entire city is lit and vibrant. Standing on the tallest tower from Puncak Mas, you will be able to catch a bird's eye view of Bandar Lampung whilst enjoying the fresh air from the surrounding hills and nature.
Kiluan Bay – Located a little further away from the main city centre of Bandar Lampung, Kiluan Bay is another popular destination that the city has to offer. Here in Kiluan Bay, you can catch dolphins swimming freely in the ocean up real close. However, be sure to go there during the months of April and September during Bandar Lampung's dry season. For convenience, you can book a Kiluan Bay tour from Bandar Lampung that includes transportation, homestay and boat for the dolphin watching. Other activities include snorkelling, swimming and relaxing at the white sand Kiluan Beach.
Putri Malu Waterfall – Bandar Lampung has unlimited natural attractions, one being the Putri Malu Waterfall that is located in Way Kanan. The 80 metres high waterfall is a favourite picnic spot among the locals, it is not as crowded as Way Kanan River and a fantastic swimming spot as the water current is not too strong. Putri Malu Waterfall is popular during the weekends when locals bring their family and friends for barbeque and picnics while being surrounded by the sounds of the waterfall and the lush tropical forest.