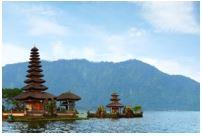 Bengkulu City is the capital of Bengkulu Province, Indonesia. This city is the second-largest city on the West Coast of the island of Sumatra, after the city of Padang. Previously, this area was under the influence of the Inderapura kingdom and the sultanate of Banten. Then, it controlled by the British before being handed over to the Dutch. The city also became the place of exile Bung Karno in the period 1939 - 1942 during the reign of the Dutch East Indies and became the hometown of one of his wives, Fatmawati. Bengkulu City has an area of ​​144.52 km² with a population of 351,298 people consisting of 176,535 men and 174,763 women in 2015.
Best time to fly from Cebu to Bengkulu
The peak and busiest times of Bengkulu are in June followed by May and February. Hotel prices, as well as flight tickets, will be more expensive than any other month. However, you can still get great deals if you book a flight or accommodation ticket earlier. The lesser month with travelers is in November. You can get cheap flight tickets and hotels if you are visiting Bengkulu that month.
Main airports available in Cebu and Bengkulu
Mactan-Cebu International Airport - This airport is an airport that serves the Cebu area. It is in the Central Visayas region. This airport is the second busiest airport in the Philippines after Ninoy Aquino International Airport. This airport is in Lapu-Lapu City on the Island of Mactan, a part of Metro Cebu. The Mactan-Cebu International Airport Authority managed the airport. This airport is known as the first international resort airport in the world. This airport is also a hub for Cebu Pacific and Pan Pacific Airlines. With an area of 797 hectares, this airport has a single runway with a length of 3,300 m.
Fatmawati Soekarno International Airport - It is formerly known as Padang Kemiling Airport. It is an international airport located in Bengkulu City, Bengkulu Province, precisely on Jl. Raya Padang Kemiling - Slebar - Bengkulu. This Fatmawati Soekarno International Airport is home to a Mandala Airline's plane. Fatmawati Soekarno International Airport has a runway with a length of 2,239 m x 150 m with an asphalt surface. This airport is a first-class airport that is managed by the UPT Directorate General Hubud. This airport can only handle Airbus A320 and Boeing 737. It is the largest aircraft that can be operated at this airport. This airport is located 14 km from the city.
Climate pattern in Cebu and Bengkulu
Bengkulu's climate is temperate. It is hot and humid. If you are looking to visit Bengkulu during warm and hot months, you can visit during May, June, and April. However, the hottest month in Bengkulu is in May where the temperature can be as high as 32.1 °C during day time while the temperature can be 23.6 °C during night time.
Highlights in Bengkulu
Batu Kandis Hill – To reach the peak you have to do 125-meter rock climbing. Batu Kandis Hill is indeed very unique because at its peak there is a clear water pond that never dries. In addition to rock climbing, you can also do outdoor sports activities such as motor crossing in the area around the hill.
Curup Hot Springs – This hot spring is popular among the residents as a cure for various diseases. This water is hot and does not emit any sulfur smell. It is the main advantage of this hot spring. It is not a surprise that the area is quite crowded with locals.
Manula Beach – You can visit this beach while you are in Bengkulu. Various activities that you can do while you are here.