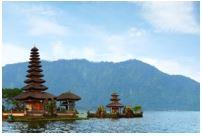 Rarely discussed by the tourists, but a favourite place of many travellers – Trat, Thailand is Thailand's hidden jewel. Located in east Thailand by the borders with Cambodia, Trat has more than 50 islands where some of them are crowned to be Thailand's most gorgeous islands. The most popular islands you can swing by are Koh Chang, Koh Mak and Koh Kood. The glittery reflections of the sand, vast, blue sea, mesmerising marine life are the reason why Trat is an excellent destination for your upcoming holiday!
Best time to fly from Cebu to Trat
The best time to visit Trat will be during May and October. Plenty of sunshine with a little drizzle is perfect for you to get sunny weather but with a moderate temperature. Moreover, in that period, the tourism flow is a bit slow in Trang. Therefore, you can expect good deals! Open your tab, and switch on your price alert on Traveloka so that you can find the best of the price! The peak season is in March and April. The place is crowded due to New Year's Songkran Festival. If you still would like to go on that time, set your bookings – airline tickets and hotel – months ahead of your trip. Hence, you can at least minimise the surged prices effects on your holiday in Trat.
Main airports available in Cebu and Trat
Mactan-Cebu International Airport – The Mactan-Cebu International Airport is in Lapu-Lapu City, Mactan Island, Cebu, the Philippines. It serves both Central Visayas and Cebu City. The airlines that operate here are PAL Express, Pan Pacific Airlines, Cebu Pacific, Cebgo, Air Juan, Philippines Airlines, Philippines AirAsia and Royal Air Philippines. The terminal is separated into two domestic flights (Terminal 1) and international flights (Terminal 2). At the airport, while waiting for your plane take off, you can spend some times at the restaurants, cafes, beverage outlets and some interesting stores inside the airport. Outside of it, you can get any mean of transportation to go to your desired place.
Trat Airport – The Trat Aiport mostly flies domestic with IATA code TDX. Located in Trat, Thailand, Trat airport serves a single airline which is Bangkok Airways. This relatively new airport has the basic necessities needed for the visitors equipped in the airport. Transportations to nearby places also are provided outside of the airport.
Climate pattern in Cebu and Trat
Trat is the wettest place in Thailand, due to its location and geographical reason. As you might expect, Thailand is a tropical country with three major seasons. Firstly, the rainy season starts from mid-May to October. However, the weathers in May and October are relatively sunny with drizzles, probably due to the months are the transitional period for a season switch. In between those months, you will experience an abundance of rain across the country. By mid-October to mid-February, the season switches to winter. Not snowy, of course; however, you will get to see a significant amount of rain, especially from October to November. Then, the summer starts from mid-February to mid-May, where the weather is much warmer and drier. However, do avoid coming in April as it is the hottest month of the year.
Highlights attractions in Trat
Koh Chang – Literally translated to be "Elephant Island", Koh Chang has a grandeur size like its name. It is also prominent because of its mountainous landscape, pristine beaches and waterfall area. There are many natural sites you can visit, such as Khlong Phlu where you get to dip your toes in the gradient emerald waterfall pool. If you are a person who is more interested in for fishing or snorkelling, swing by Bang Bao Fishing Village or Salak Kok Fishing Village. The locals are amiable and can bring you to the sea to do your desired activities.
Black Sand Beach – There are only five black sand beach in the world, and Black Sand Beach in Laem Ngop is one of the five. To discover the beach, you need to have a walk in the mangrove forest where you can enjoy the beautiful scenery of mudskippers, birds and monkeys. At the end of the road, you will unravel Black Sand Beach, treat your feet to the natural spa at the beach – bury your feet in warm and soft, black sand to relax. This place also is a popular sunset spot.
Ban Nam Chiew – You are not totally experiencing a culture if you do not blend in with the locals. Head to Ban Nam Chiew, to experience a community of Muslims and Buddhists who live together. The villages of Muslim and Buddhist are living and harmony not just with one another but also with nature. Ride a boat to explore the beautiful mangrove forest. One of the best things here, you can spend the night at the local houses maybe learn to make local dessert – Ban Nam Chiew crispy crepes or weave your own Ngop Nam Chiao which is a palm-leaf hat.