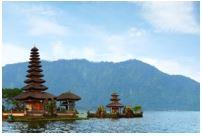 Frankfurt is located in a German federal state of Hesse and the largest metropolis with around 750,000 population. It is the fifth-largest city after Berlin, Hamburg, Munich and Cologne. Historically, the city was one of the most important cities of the Roman Empire which was founded around the early 1st century, but it lost its sovereignty in 1806. The city has a various stretch of diversity in its culture, religion, ethnic and race. Frankfurt is also one of the world's hubs for commerce, culture, education, tourism and transportation and its airport, Frankfurt Airport is among the world's busiest airports. The city is known for the vast amount of art museums, science and history.
Best Time to Fly from Iloilo to Frankfurt
The best time for you to visit Frankfurt is during the months of spring and summer from April to early September. Due to the temperate and mild weather, tourists flock Frankfurt during this period to take advantage of the cool temperature. During this time, it is the peak season for tourism. So be sure to book your flight and accommodations early to avoid high rates and unavailability.
Main Airports in Iloilo and Frankfurt
Iloilo International Airport (ILO) – This airport is the province's main airport that connects the city to both domestic and international destinations. It is situated in the district of Cabatuan and nearby the district of Santa Barbara, which also makes this airport known as the Santa Barbara Airport. However, no flight connects the province of Iloilo to Frankfurt directly. Passengers must transit at Ninoy Aquino International Airport in Manila first before proceeding for the flight to Frankfurt. Philippine Airlines operate most flights from Iloilo to Frankfurt.
Frankfurt International Airport (FRA) – This international airport is the main hub for passengers from all around the world to travel into Frankfurt, Germany. It is located approximately 12 km away from the central city and it serves 265 direct flight routes to all over the world, including Manila International Airport. This airport is also among the world's busiest airports in terms of its passenger traffic alongside London Heathrow Airport and Paris Charles de Gaulle Airport. Annually, this airport serves around 57.5 million passengers and its expansion plan will soon accommodate 88 million passengers by 2020. This international airport is also accessible by public transports such as buses and trains as well as taxis.
Frankfurt Hahn Airport – Located in the city of Hahn, Rhineland-Palatinate, this airport is the main hub for the low-cost carriers, Ryan Air and Wizz Air. The closest major cities to this airport are Koblenze and Mainze. Routes provided through this airport are limited and only operated by the two airline companies. However, other cargo airlines do pass through this terminal.
Climate Pattern in Iloilo and Frankfurt
Iloilo has a tropical climate where the temperature is constant all-year-round. On the other hand, Frankfurt has a temperate oceanic climate with an average temperature of 10.6 degrees Celsius. April to September is Frankfurt's warmest months with an average high temperature of 25.5 degrees Celsius. Winter typically starts from November to early March with an average of -1.1 degrees Celsius. It is recommended that you travel to Frankfurt during the months of spring and autumn for their mild temperature, perfect for outdoor activities.
Highlight Attractions in Frankfurt
St. Bartholomew's Cathedral – This is a Roman Cathedral, noted by the red sandstone that makes up its entire structure. This cathedral has been a part of Frankfurt's attractive landmark since the 13th century, and even today standing amongst the city's tall skyscrapers, the cathedral still stands out. It is also deemed as Germany's Imperial Cathedral as it had witnessed the coronation of Emperors from 1562 to 1792. You can find several historical points while visiting this centuries-old cathedral including its most important one situated in the Late Romanesque Bartholomew's Choir is St. Bartholomew's skullcap itself.
The Palm Garden – This piece of greenery situates in the Bockenheimer Landstrasse, and the 54-acre garden was constructed and opened for public in 1871. It had been the key to Frankfurt's attraction since then. Here, you can find many greenhouses with various plant species from both tropical and subtropical climate. You can also find several picnic spots here, perfect for an evening out. Also worth visiting is the Tower of Europe, which is only a short walk away and provides visitors with an unforgettable dining experience. This garden is especially attractive when visiting at night because of its colourful lights decorating the trees and walkways there.