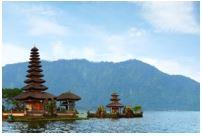 Surakarta, known as Solo, is a city in Central Java, Indonesia. The 46.2 km2 (16.2 sq mi) city connects Karanganyar Regency and Boyolali Regency to the north, Sukoharjo Regency to the south, Karanganyar Regency and Sukoharjo Regency to the east and west. On the eastern side of Solo lies Solo River (Bengawan Solo). Its built-up (or metro) region made of Surakarta Municipality and 59 districts spread on seven regencies was home to 3,649,257 inhabitants as of 2010 survey. Surakarta is the birthplace of the current President of Indonesia, Joko Widodo. He worked as Mayor of Surakarta from 2005 to 2012.
Best time to fly from Manila to Solo
Best time to go, Solo, is in the month of May when the weather is changing from slightly cool to warm. The heat could go up high as it remains to summer, but it is also unpredictable and may have sudden rain. During winter, there is a lot of rainfall here.
Main airports available in Manila to Solo
Ninoy Aquino International Airport - The Ninoy Aquino International Airport previously known and still commonly referred to as Manila International Airport as well as its codename Nichols Field (Nichols), is the airport that serving Manila and its surrounding metropolitan region. Situated along the border between the cities of Pasay and Parañaque, about 7 kilometres (4.3 mi) south of Manila proper and southwest of Makati. NAIA is the main worldwide gateway for travellers to the Philippines and serves as a hub for AirAsia Philippines, Cebgo, PAL Express, Cebu Pacific, and Philippine Airlines. It is managed by the Manila International Airport Authority (MIAA), a branch of the Department of Transportation (DOTr).
Adisumarmo International Airport - Adisumarmo International Airport is an international airport in Boyolali Regency, Central Java, Indonesia. It is situated 14 km north of Surakarta city. It is the main airport of Boyolali and Surakarta and the nearby area, also known as Solo Raya. The airport also operates as an alternative airport to Adisutjipto International Airport in Yogyakarta during a disaster, such as during the 2006 Yogyakarta earthquake and the 2010 Mount Merapi explosion. The airport also operates as the base of the Indonesian Air Force which is known as Lanud Adisumarmo. There is no flight available from Ninoy Aquino International Airport to Adisumarmo International Airport until the present.
Climate pattern in Manila to Solo
The Solo rests on 300m above sea level Solo has a tropical environment. Solo has a significant quantity of rainfall during the year. This is true even for the dullest month. The Köppen-Geiger climate classification is Af. The typical annual temperature in Solo is 28 C. The annual rainfall is 2750 mm.
Highlights attractions in Solo
Balekambang City Park - Balekambang Park is a city park situated in Solo city or Surakarta city, Indonesia. This park is one of the popular places in Solo. Feel free to visit here.
Mangkunegaran Palace – It is a palace that has performing arts, and history that you can learn more about Solo history. Moreover, it is a great place to visit and learn a bit about history or the imperial family.
Surakarta Hadiningrat Palace - A small museum showing artefacts of the palace. Not significant for tourists because the history and variety of artefacts are not in English, but you can translate it to English. The place is quite run down, not well preserved. Next to it is the palace but it has been shut down for the past two years since it disputes among the families.