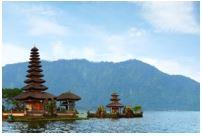 From a fishing settlement, Legazpi is now a famous port and becomes a significant economic hub for the entire Bicol Region. It is also a famous tourism place in the Philippines due to its beautiful natural topography. Sited at the foothill of Mount Mayon, it has a variety of adventurous tourism activities to offer.
Best time to fly from Puerto Princesa Palawan to Legazpi
Best time to fly from Puerto Princesa Palawan to Legazpi for ideal weather is early to the middle of January. The temperature in this period ranges from 23 to 28 degree Celcius. January is also recorded as the most popular month to receive visitors. Therefore, do note that flight tickets and hotel rates will fluctuate up to the most expensive during this month. However, January is also recorded to receive a moderate amount of rainfall. If you prefer dry months to make your tour more comfortable, note that the driest month is May, followed by April and February.
Main airports available in Puerto Princesa Palawan and Legazpi
Puerto Princesa International Airport - Puerto Princesa International Airport is located in Barangay San Miguel, Palawan and it serves the entire Puerto Princesa region. It is a hub for Air Juan and Philippines AirAsia. It operates international flights to Seoul and Taipei. Whereas, domestic flights to Cebu, Clark, Manila, Iloilo, El Nido, Busuanga, Cuyo, Sipalay, San Vicente and Taytay.
Legazpi City Domestic Airport - Legazpi City Domestic Airport is the main gateway for air transportation to the whole Bicol Region. With its single runaway of 2280 x 36 meters, this airport operates only domestic flights to and from Manila and Cebu under Cebu Pacific and Philippines Airlines. Therefore, traveling from Puerto Princesa Palawan to Legazpi, tourists need to take a transit flight either Palawan-Manila-Legazpi or Palawan-Cebu-Legazpi.
Climate pattern in Puerto Princesa Palawan and Legazpi
Legazpi shared the same climate pattern with Puerto Princesa, which is tropical. Tropical climate shows characteristics such as two seasons which are wet and dry, relatively constant temperature throughout the year and intense sunlight. In term of temperature, there is no significant difference for both Puerto Princesa Palawan and Legazpi. Record moderate temperature ranges from 24 to 31 degree Celcius. Whereas, in term of the chance of precipitation, Legazpi is recorded to receive a larger amount of rainfall compared to Puerto Princesa with the highest reading 431 mm and 233 mm respectively.
Highlights attractions in Legazpi
Cagsawa Ruins Park - On the wide park of Cagsawa Ruins, stand a historical building known as the Franciscan church. It is believed to exist since 1587 and was destroyed in 1646. It was reconstructed in 1724 and again destroyed in 1814. What can be seen standing now is the remaining structure of the church. With its old red brick structure with the greenery trees and Mount Mayon view has made this park one of the famous tourist centers in Legazpi.
Mayon Volcano National Park - With a picturesque view like a painting, Mayon Volcano National Park can be seen throughout the city. Get closer to it by spending a day to satisfy your curiosity about the formation of it. You can ride an ATV or Jeep ride to climb up to the observatory spot.
Quitinday Underground River - Quitinday Underground River is a natural formation where a river is naturally formed in a rocky cave. Due to its uniqueness and beauty, it is listed as UNESCO Heritage Site and one of the New 7 Wonders of Nature. To reach the opening of this cave, tourists will have to walk along a jungle path for about 500 meters. Once reaching, spend PHP 100 to pay the guide that will take tourists to raft through and explore the underground river.