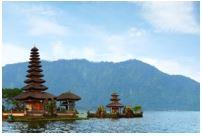 Often, Kalibo is just a "passing through" site before reaching the popular tourist destination, Boracay. It is very unfortunate because Kalibo has plenty of fantastic unexplored point of interests to offer. The chilled back, the slow-paced city, is ideal for vacationing as a family, a group of friends, or even for backpackers. Kalibo offers tasty, fresh seafood, river cruises, aged cathedrals, mangrove forests and more aesthetically pleasing places to see. Next time you are bound to pass through Kalibo for Boracay, make sure to spend a day or two in Kalibo to explore more of this vibrant city.
Best time to fly from Legazpi to Kalibo, Boracay
Whether you are traveling to Kalibo or just passing through to reach another destination, definitely consider staying for a couple of days in this town in time for the Ati-Atihan Festival which is celebrated annually on the third Sunday of January. During the Ati-Atihan Festival, you will get the opportunity to witness varieties of tribal dance, music, accompanied by indigenous costumes and weapons, and parade along the street. Additionally, Kalibo in January boasts warm, sunny weather and clear blue skies, making it the best time to travel to this city.
Main airports available in Legazpi and Kalibo, Boracay
Legazpi Airport - The airport serving the city of Legazpi is known as the Legazpi Airport. Located only 5 kilometers away from Legazpi's main city center, this commercial airport terminal is the busiest domestic airport in mainland Southern Luzon. Airline carriers that operate daily scheduled flights to and from the Legazpi Airport terminal include Cebu Pacific Air, Philippine Airlines and Cebgo Airlines.
Kalibo International Airport - Situated only 2 kilometers away from the main city of Kalibo, the Kalibo International Airport is the main terminal operating international and domestic flights to the city, its surrounding area and Boracay. Being one of two airports serving the well-known tourist destination, Boracay, the Kalibo International Airport caters flights to and fromvarious major cities in the country and also internationally such as Singapore, Hong Kong and Kuala Lumpur.
Climate Pattern in Legazpi and Kalibo, Boracay
Variations of weather conditions in Kalibo is less to none. Fortunately, the climate in this vibrant city is often warm and sunny. However, being a tropical country, it is normal to experience occasional showers. The months of May until December can be expected to have high chances of precipitation. June is the wettest month in Kalibo, while February is the warmest.
Highlights attractions in Kalibo, Boracay
Bakhawan Eco-Park - When in Kalibo city, definitely include Bakhawan Eco Park in your travel itinerary. Known also as the Bakhawan Mangrove Forest, this park that is situated along the Aklan river is one of the province's most popular sight-seeing destination. Fun fact, Bakhawan Eco Park is also the country's most successful reforestation project. Some of the activities and sights to see while you're here are the watchtower, taking a stroll down the Mangrove Eco-Trail Experience, then relax by getting a massage and don't forget to check out the Centre for International Mangrove Studies too.
The Ati-Atihan Festival - It is what Kalibo city is known for and what the locals and visitors look forward to every year. The Ati-Atihan festival is celebrated annually in January. The celebrations last for seven days straight from morning until evening. The peak of its celebrations though falls on the third Sunday of January which usually is when the festival is most crowded with locals and tourists. The Ati-Atihan festival showcases an unlimited amount of unique tribal dance, fantastic music, accompanied by indigenous costumes and weapons in such vibrant colors, and also choreographed parades along the streets of the central city of Kalibo.
Jawili Falls - Nature and outdoor enthusiasts will love the opportunity to visit the picturesque Jawili Falls. It is composed of seven cascades which all lead into rock pools, a great spot to swim. The small entry fee that is charged is used to maintain the Jawili Falls amenities such as the shower rooms, paved pathways and restaurants. If you are the adventurous type and have no problem with going deeper into the forest, there amongst all the great flora and fauna, you will find a stream that is less crowded with visitors. This stream is also ideal for a swim, and the picturesque landscape is a bonus.