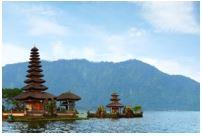 More popular by the name GenSan, General Santos City is named after Paulino Santos who was a general of Philippine Army in 1936. Nowadays, GenSan is an urban city that is also famous for its fishing industry. Not only that, but General Santos also is well-known for its mother nature's gems such as the Fifth Mountain Balakayo, Klaja Karst, Malakong Gorge and Sanchez Peak.
Best time to fly from Kalibo - Boracay to General Santos
The best time to visit General Santos will be in between February till March where the weather will be mostly sunny and less rainy. During this period, there will be less likelihood for General Santos to be crowded with tourists. In contrast, in the month of August, July and May, General Santos will be crowded with tourists. If you happen to plan to visit on any of these months, book your flight tickets and hotels ahead of time because the prices will shoot up during this peak season. For those who are under a small budget, you might want to visit General Santos in December – during the off-peak season so you can get better deals.
Main airports available in Kalibo - Boracay and General Santos
Kalibo International Airport - The Kalibo International Airport mainly serves the city of Kalibo and Boracay. This airport is located 2 kilometres away from Kalibo's town centre, and 68 kilometres away from Malay's Caticlan Port. Kalibo International Airport is the hub for Air Asia, Cebu Pacific, PAL Express, Philippine Airlines, Silk Air and Tiger Airways. On the second floor of this airport, there are various restaurants, duty-free stores, cafés and craft vendors for you to drop by while waiting for your flights. For transportation, you can either take buses, chartered vans, taxi or even rental cars. Besides, certain hotels or resorts will provide their own ground transportation for their guests. You need to make the arrangement directly with hotel management for this type of transportation. Another method of transportation to the town's centre is using a tricycle. It is going to cost you around PHP 100 to get to Kalibo Town.
General Santos International Airport - General Santos International Airport is situated in General Santos, Soccsksargen, Mindanao. This airport is around 14 kilometres away from its General Santos city. After this airport was built, it replaced the old Buayan Airport that is located in. The old airport was transformed to be Moreover, this airport is Mindanao's largest airport on the island and serving a few airlines such as Cebu Pacific, Philippines Airlines and PAL Express. General Santos International Airport has all the basic facilities such as restaurants and stores that you can drop while waiting for your flights. There are many kinds of transportation provided by this airport for its visitors.
Climate pattern in Kalibo - Boracay and General Santos
General Santos has a tropical climate which characterized with wet and dry seasons. In the Philippines, General Santos is one of the driest cities in the country. The hottest month in General Santos City is in April with a temperature that once touched 39-degree Celsius. While the coldest month is January with the average 22.5-degree Celsius. On the other hand, the wettest month in June whereas the driest month is March. Make sure to check the weather forecast before you come here so that you can roughly plan your outdoor activities according to it.
Highlights in General Santos
General Santos City Fish Port Complex - It is a modern fishing complex which welcomes the tourists to wander around the complex in order to learn more about the industry itself. It is good if you are here early in the morning to really see the busy actions of how the workers here unload many kinds of fish from those humongous ships. Every entrance is going to cost you around PHP 10.
Sanchez Peak - If you would like to go hiking, come to the border of Olympog and Conel, you will see Sanchez Peak. From up there, you will see mesmerizing bird-eye-view of General Santos City. To get there, you can choose either Balakayo trail or Balsinang trail. If you are relatively new as a climber, it is advisable if you take Bakayo route it is not as challenging as Balsinang route.
Manilay Ancestral House - This house is transformed to be a new kind of museum that keep all materials that reflect GenSan now and before. Manilay Ancestral House is owned by Mr Warren Manilay and his wife. Both of them are avid collectors of local antiques and they decided to keep their collection here – at their Spanish-inspired house.