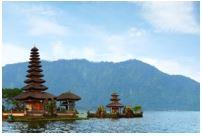 Davao City is no ordinary Philippines capitals. Besides being recognized as a 1st class highly urbanized city, it is also a renowned home to the nation's most valuable treasure trove! The very mention of Davao itself is already a synonym to Philippines' tallest mountain peak called Mount Apo. The city too proudly presents the nation's pride, both its national bird, Philippines eagles and waling-waling orchids, the Queen of Philippines flowers, Furthermore, its abundance of Durians, the king of all fruits, has led to Davao earning its unique moniker called "Durian Capital"!
Best time to fly from Masbate to Davao
Greatly blessed with a tropical rainforest climate, giving Davao or Philippines itself two main seasons, wet and dry seasons with the seasonal monsoon. Occasional downpour is also expected during the hot months. Davao's warmest months of May, April and October recorded the highest temperature of just 33.3oC. So if you are a fan of a lovely, sunny month, then these are just the perfect traveling months for you! Avoid the peak tourism season from June to August as prices will skyrocket. Hence, the best time with less crowd and good money value will undoubtedly start in January. Else, head to Davao in August to witness their exuberant Kadayawan Festival!
Main airports available in Masbate and Davao
Moises R. Espinosa Airport - Named after Masbate's very own representative who was assassinated in this very airport, Moises R. Espinosa Airport serves only its province. It acts like none other than a minor airport which receives domestic flights only from Manila. All flights are operated by Cebu Pacific airline.
Francisco Bangoy International Airport - Mindanao's busiest airport, Francisco Bangoy International Airport is located north of the city center. This airport serves as the main hub for both domestic and international flights to and from the city. A few airlines operating here are Philippines Airlines, Cebu Pacific, Philippines Air Asia, SilkAir and Cathay Dragon, which fly to over 13 destinations across the nation along with other international countries like Singapore, Hong Kong and Quanzhou. Oh and hassle not! As this airport is complemented by the latest navigational, security and baggage handling equipment to ease your mobility. Getting to this airport is simple. You can easily access to public transportation like taxis and Philippines' jeepneys! With no or least traffic, you will be able to make it to the airport within 15 to 30 minutes from Davao's downtown.
Climate pattern in Masbate and Davao
Davao experience warm and sunny days throughout the year, despite the occasional shower. The city's all-year-round average temperature ranges between 26 to 32oC with the highest recorded at 37oC and the lowest at 23.3oC. The warmest months are definitely in April, May and October. Nonetheless, don't sweat yourself. Its occasional downpour and gentle breeze will help to soothe the heat away. The most pleasant weather arrives in Davao around June to August of the year. The days are just splendidly nice, neither too hot nor too wet, for a perfect tour around the city. Hence, making it the busiest season for tourism in Davao.
Highlights attractions in Davao
Mount Apo Natural Park - Be surprise to be greeted by the spellbinding beauty of none other than the majestic Mount Apo. With the height of 2, 954 meters above sea level, Mount Apo was recognized to be the nation's tallest mountain. It is also a large solfataric and potentially an active volcano. However, don't be disheartened! , breathe in the refreshing humid mountain breeze, feast your eyes with the vivid lush of greeneries covering the hills and indulge in the tranquil atmosphere it possesses. This will be a great experience, unlike any other!
Davao Crocodile Park - With the aim to inspire public to respect, appreciate and love nature, especially wildlife, Davao Crocodile Park had a kick start to share their enthusiasm or state of the art in crocodile farming system in the Philippines. You'll be amazed at the latest crocodile farm design that is fully equipped and modernized facilities! Oh and not just that, this park is also home to other exotic animal species like raptors, snakes, monkeys, bearcats and birds. Isn't it just the right edutainment for your kids?
People's Park - Frequently barraged by its local from all walks of life, indeed suits its given name of People's Park. This beautiful park was designed with scenic landscapes of the waterfall, breathtaking gardens, fun playground and naturally vibrant sculptures that speak volume of the great local indigenous people. Markedly distinguishable by its gigantic spiky, durian-like domed-roof, you will walk-through a mesmerizing view by both the man-made architecture and nature alike. This park is also dotted with many dining places surrounding it. So, mark this park down your itinerary!