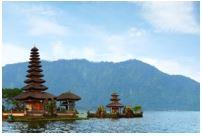 Dumaguete, nicknamed as 'The City of Gentle People' is the capital and the city with the highest population in the province of Negros Oriental. Considered as an urban city, Dumaguete is home to around 130,000 residents. Furthermore, the city is pinpointed as a university city due to the presence of various universities that are well-known nationally and abroad.
Best time to fly from Naga to Dumaguete
Dumaguete which has a tropical savannah climate, distinctly experiences two seasons which is dry and wet seasons. The best time to visit Dumaguete would be from February to March and from May to early June as these months are the driest and coolest months of the year, hence, are the most suitable time for tourists to venture into the city. However, the peak time for tourism would be during the third to fourth week of November as the city celebrates its most popular fiesta in honor of their patron saint, Sta. Catalina de Alexandria. Meanwhile, the off-peak time would be during summer, which is from June to August as it is the slowest season for tourism. Hence, the cost of lodging and accommodations may be less.
Main airports available in Naga and Dumaguete
Naga Airport ‒ Naga Airport or locally known as Paliparan ng Naga, is a public airport that serves Naga city and its metropolitan area. This airport is located in the provincial capital, Pili. The distance between this airport and the city of Naga is 9 kilometers. Both domestic and international airlines operate from this airport including Philippine Airline, South East Asian Airlines and Cebu Pacific. Naga Airport has a 1,402-meter long, concrete runway. Facilities provided at the airport that are beneficial to travelers include tourist information and assistance center, hotel and travel agency representatives and taxicabs.
Sibulan Airport ‒ Sibulan Airport, also known as Dumaguete Airport or Dumaguete-Sibulan Airport, is a major domestic airport which serves the general area of Dumaguete city. This airport is located in the province of Negros Oriental, specifically in the municipality of Sibulan, just a few meters away from Dumaguete City. Airlines that operate in this airport include Cebu Pacific, Philippine Airlines and Royale Air Way. Facilities include transfer service to any hotel in Dumaguete, a resto-bar and full-service airport lounge.
Climate pattern in Naga and Dumaguete
On average, both Naga and Dumaguete have high temperatures throughout the year. Usually, it will be dry and sunny with a chance of rain throughout most the year. The average maximum temperature in Naga is around 28 and 32 degree Celsius, while the average minimum is approximately 22 and 24 degree Celsius. As compared to Naga, Dumaguete notes an average maximum temperature of 34.3 degrees Celcius while having the same average minimum temperature of 22.9 degrees Celcius. However, the weather in both regions could be unpredictable due to the typhoon occurrences. Hence, visitors are advised to check the weather reports as flights might be affected by the typhoons.
Highlights in Dumaguete
Dumaguete is the right place to go if you seek for a relaxed, peaceful and affordable vacation. It is a place whereby everything is accessible even by walking, providing convenience to tourists. Some of the main attractions in Dumaguete include Rizal Boulevard, Apo Island and Pulangbato Falls.
Rizal Boulevard - Rizal Boulevard, named after national hero Dr. Jose Rizal, is the core of Dumaguete's community life. This street, which is lined with accommodations and restaurants that both locals and tourists would enjoy, is only 15 minutes away from Sibulan Airport. Furthermore, tourists can spot well-maintained Quezon Park and the Dumaguete Belfry, a lookout above St. Catherine of Alexandria Cathedral built-in 1811, only within walking distance.
Apo Island - Only 20 to 30 minutes trip by boat, Apo Island is a must if you are visiting Dumaguete. This island is renowned as one of the top 10 diving sites in the country. Tourists will get a chance to swim with the turtles as they favor swimming around the beach. If you are down to a more adventurous activity, diving and snorkeling are highly recommended as you will be mesmerized by the diversity of marine species such as whales, dolphins, endangered hawksbill, Napoleon wrasse, bumphead parrotfish, vibrant colored soft coral gardens with thousands of clownfishes and many more.
Pulangbato Falls - This beautiful site, named after its natural redness of the rocks in the falls, is a refreshing and relaxing area in Valencia. It is only around 30-minute jeepney ride away from the center of Dumaguete. Tourists will be able to swim in around the waterfalls or simply enjoying the beauty of nature. One of the best features of this place is it is not as commercialized as other spots. Hence, it is very much well-maintained and serene, perfect as a peaceful getaway for nature lovers.