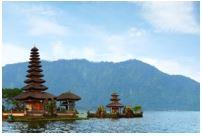 Cagayan city is a developing Filipino with a long history of Spanish colonialism and exquisite culinary scene. The name Cagayan de Oro refers to the 'oro' or gold discovered by the Spanish in the river here. One of the most important industries here nowadays is the Del Monte pineapple-processing plant north of town. However, you can find many activities from outdoor adventures such as rafting, hiking, rock climbing and caving to golfing.
Best time to fly from Zamboanga to Cagayan de Oro
Cagayan de Oro is said to be a typhoon-free area. However, there are occurrences of rain showers and some depressions. It is recommended that you visit Cagayan de Oro from March to June, as it is sunny during this time. However, if you prefer to visit during the colourful festivals and street parades, you should go there around the 4th week of August because this is when the Kagay-an Festival takes place. There will be parades, street dancing, trade fairs, and a beauty contest.
Main airports available in Zamboanga and Cagayan de Oro
Zamboanga International Airport - Zamboanga International Airport (ZAM) is the main airport serving Zamboanga City in the Philippines. The airport is Mindanao's third-busiest airport after Francisco Bangoy International Airport in Davao City covering a total land area of 270 hectares. This airport handles flight to and from destinations such as Cebu, Davao, Tawi-Tawi, Jolo, Manila and Cotobato. Some of the airlines that operate here include Cebu Pacific, Philippines Airlines and Platinum Skies.
Laguindingan Airport - Also known as Laguindingan International Airport (CGY), this airport is the first international airport in Northern Mindanao that serves the cities of Cagayan de Oro, Iligan, and Marawi, as well as the provinces of Misamis Oriental, Lanao del Norte and Bukidnon. The airport is Mindanao's second-busiest airport and is situated 46 kilometres from Cagayan de Oro. This airport handles flights from destinations such as Cebu, Manila, Iloilo, Clark, Davao and Dumaguete. There are four airlines that operate from this airport which are Cebu Pacific, Philippines Airlines, Philippines AirAsia and Royal Air Philippines. There are basic amenities available at the airport such as Wi-Fi, lounge and ATMs. To get to the city, you can take the Super 5 Airport Van and Bus for 100 PHP to Cagayan de Oro. The shuttle will drop you off at the bus station where you transfer to the bus. Alternatively, you can take the jeepney for 13 PHP.
Climate pattern in Zamboanga and Cagayan de Oro
Average temperatures in Cebu vary barely at all. The temperature is always hot with a fair chance of raining year-round. The hot months in Cagayan de Oro happen from April, May, and then June where the temperature may rise up to 33.3°C and dropping below 23.2°C at night. Thus, it may not be very comfortable to travel around if you visit at this time. If you have no problem being in the sun, then you can always visit this tropical destination in the summer.
Highlights in Bacolod
Seven Seas Waterpark – This waterpark is a relatively new addition to the tourism scene in Cagayan de Oro. It is also the first-ever world-class waterpark established in the country; therefore, this is one of the spots that you must not miss. Here, you get to ride many thrilling rides and slides such as the Cyclone and Abyss Tornado Ride. The Seven Seas Waterpark can be found at Barra, Opol, so no matter how old you are, you are never too old to have fun! The prices for adults from Monday to Thursday are 800 PHP and 1000 PHP in the weekends. Prices for kids below 4ft are 500 PHP on weekdays and 600 PHP in the weekends. Kids below 3 ft enter for free.
Mapawa Nature Park – If you are a nature freak, you need to visit Mapawa Nature Park, which is one of the most beautiful, and breathtaking tourist spots in Cagayan de Oro. This forest park is located at Barangay Cugman, and it offers a wide variety of things to do such as climbing or swimming near the waterfalls, horseback riding, canyoneering and also cliff jumping. If you are not into adventurous activities, you can just relax and enjoy nature. The river trek package is 1300 PHP per person with the entrance fee, lunch and bottled water.
Dahilayan Adventure Park – If you prefer to enjoy the outside view while being caressed by the cool breeze, you should really consider visiting the Dahilayan Adventure Park. You can also challenge yourself to zipline, race down the hill or partake in a 120-foot drop. This park also offers places to stay if you are planning to be here for a couple of days.