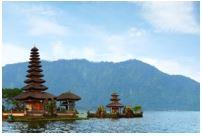 Davao is a bustling city with a spectrum of culinary, cultural, economic and commercial developments. As the home of the country's president, Davao is claimed to be a reflection of its sister city, Manila. Also known as 'Dabaw' to locals, this city definitely has a lot to offer to visitors, from foresty mountains to white sandy beaches.
Best time to fly from Zamboanga to Davao
Like any other Asian countries, Davao is mostly warm and humid throughout the year. If dry weather is what you're after, the months with the lowest chance of significant precipitation in Davao are March, December, and then February. You may want to avoid visiting Davao in late June, as it's most likely to rain during that month. If you visit Davao in August, you will be able to experience the Kadayawan Festival. However, August us the busiest time to visit Davao. Hence, reserving your flight tickets and hotel earlier is a must. In contrary, the least busy time to visit Davao is in December.
Main airports available in Zamboanga and Davao
Zamboanga International Airport - Zamboanga International Airport (ZAM) is the main airport serving Zamboanga City in the Philippines. The airport is Mindanao's third-busiest airport after Francisco Bangoy International Airport in Davao City covering a total land area of 270 hectares. This airport handles flight to and from destinations such as Cebu, Davao, Tawi-Tawi, Jolo, Manila and Cotobato. Some of the airlines that operate here include Cebu Pacific, Philippines Airlines and Platinum Skies.
Francisco Bangoy International Airport - Also known as Davao International Airport (DVO), this airport serves as the main airport for Davao City. It is also the busiest airport on the island of Mindanao. This airport handles international and domestic passengers flying from destinations such as Hong Kong, Cebu, Doha, Singapore, Bangkok and many more. Some of the airlines that operate here are Cathay Dragon, Cebu Pacific, Philippines AirAsia, Thai Air and a few other airlines. To get to the city centre, visitors can take the taxi for PHP150 or the jeepney, which cost around PHP10 – 15.
Climate pattern in Zamboanga and Davao
Average temperatures in Davao vary barely at all. The temperature is hot year-round with a chance of rain throughout most of the year. If you're looking for the very warmest time to visit Davao, it is recommended that you visit in May, April, and then October. During these months the temperature can reach up to 33.3°C and dropping below 25°C at night. If you are not a fan of such extreme weather condition, then it is better to visit in December to February, as it's the coolest and driest time of the year.
Highlights in Davao
Samal & Talicud Beaches - Samal Island is a mere 15-minute boat ride from Davao City. If you are a beach lover, visiting this island is a must. There are resorts on the island that offer snorkelling, sea kayaking and parasailing services. If water sports are not your interest, you can relax by the white-sand beaches and soak up the sun. Snorkelling lovers will surely have a blast here as the sea around Samal and Talicud is sprinkled with dive sites such as Dayang Beach, Coral Gardens and Angel's Cove bristle with various coral reefs and marine residents. To get to this island, you can take a regular boat ride at Santa Ana Wharf. When you cross over, look for a tricycle or habal-habal to take you to your desired destination in Samal.
Mount Ap - For those who seek adventurous travel, Mount Apo is a great place to challenge yourself. You can climb Mount Apo practically year-round, but it will take a challenging 4-days trip up the mountain and back. Climbers will spend the second night of their journey at Mount Apo's summit and enjoy the incredible views of southern Mindanao when morning comes. Do remember that Mount Apo is a sleeping volcano that may erupt without cautions.
Aldevinco Shopping Center - The Aldevinco Shopping Centre is Davao's first and biggest stop for craft goods and souvenirs. This market has everything fro brass swords, to shell craft and loose pearls? This humble market is a great place to purchase products of Mindanao's craftsmen. The handiwork that they produce here ranges from brass kulintang gongs to mother of pearl chests.