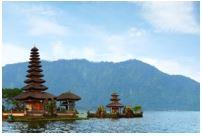 The Philippines is one of the famous holiday places among the traveller. One of the most popular tourist destinations in the Philippines is Davao. Davao is home to the tallest mountain peak of Philippines that looms majestically in the distance, Davao City is also recognized to be a first-class highly urbanized city in the whole island of Mindanao. Well, Davao City isn't merely your normal Philippines' capitals. Due to its plenty of tropical fruits like bananas, pineapples, mangoes, papayas, coconut and the most surprisingly of all, the king of fruits, Durians. Hence, the city was nicknamed as the "Durian Capital". This city has also become a dear home to the country's national bird, the Philippines eagles and the Queen of Philippines Flowers, the waling-waling orchids. Plus, it is well known for its gorgeous beaches and natural wonders. The visitors can visit Mount Apo, which is the primary attraction in Davao City.
Best time to fly from Tagbilaran-Bohol to Davao
The climate in Davao is tropical year-round with an average temperature of 28-34 degrees Celsius. Davao or Philippines has only two main seasons which is dry and wet seasons where rainfall can be heavy during the monsoon or wet season and humidity during the hotter months can reach almost high. The best time to visit Davao would be in between December until February when the weather is warmer with light rain. During this season, the sun shines bright, resulting in clear open skies with the winds blow mildly suitable for outdoor activities at Davao. The off-peak season is in between July until September where the climate during that season cannot be predictable and typhoons can sometimes occur anytime. Visitors should update the weather reports before going to this island. During this season you will find cheaper flight tickets and hotel deals. It is best to plan your trip well so you may enjoy travel in the best environment.
Main airports available in Tagbilaran-Bohol to Davao
Bohol–Panglao International Airport - Bohol–Panglao International Airport also well known as New Bohol International Airport is a new airport on Panglao Island in Bohol, Philippines. It replaced Tagbilaran Airport to support Bohol's bigger passenger traffic due to tourism attractions. The airport is labelled as the first eco-airport in the Philippines and the country's green gateway. The airport is officially categorized as the international airport by the Civil Aviation Authority of the Philippines (CAAP), despite currently serving domestic flights as the Philippine Airlines ended its Tagbilaran-Seoul flights on early February 2019. The airport serves as the entry to Tagbilaran and the rest of central Bohol for domestic air travellers. It also is less than an hour's flight from Mactan-Cebu International Airport, which is an entry to the Central Philippines for international tourists. The airport was initiated on 27 November 2018.
Francisco Bangoy International Airport - Francisco Bangoy International Airport or the locals also called as the Davao International Airport is the primary international airport that operates for Davao City and Davao District. There are several international and domestic airlines which operate in this airport which includes Xiamen Air, Philippine Airlines, Philippines AirAsia, Qatar Airways and Cebu Pacific. This airport is located about 40 kilometres from the city of midpoint. Francisco Bangoy International Airport has many interesting shops and restaurants within the airport so you can shop or eat while waiting for the plane to arrive or depart. To go in and out of the airport is easy because there are many types of public transportation available in Francisco Bangoy International Airport for the travellers. There is no flight available from Tagbilaran-Bohol to Davao until the present.
Climate pattern in Tagbilaran-Bohol to Davao
Davao climate is under the heat of the sun for most of the time. Usually, it will be warm and sunny throughout the years with little rains except for typhoon season which the weather cannot be predictable with heavy rains and thunderstorm. The average maximum temperature in Davao is around 25 and 31 degree Celsius, while the average minimum is about 19 and 22 degree Celsius. While around December until February will be crowded of seasons because it will be the warm and enjoyable season of the year. If you plan to visit Davao during this season, make sure you book your flight and hotel early as two months in advance for a lower price.
Highlights attractions in Davao
Mount Apo Natural Park - Be surprised to be welcomed by the spellbinding beauty of none other than the majestic Mount Apo. With the height approximately 3.1 kilometres above sea level, Mount Apo was recognized to be the nation's tallest mountain. Moreover, it is also a big solfataric and potentially an active volcano. However, don't be scared, breathe in the refreshing humid mountain breeze, feast your eyes with the rich luxurious of greeneries covering the hills and indulge in the tranquil atmosphere it possesses.
Davao Crocodile Park - Davao Crocodile Park is built to inspire public to respect, appreciate and love nature, especially wildlife in their case, Davao Crocodile Park was a key to share their enthusiasm or a state of the art of crocodile farming system in the Philippines. You'll be amazed by the latest crocodile farm design that is fully equipped with modern facilities and not just that. This park is also home to many more rare animal species like raptors, snakes, monkeys, bearcats and birds.
People's Park - Frequently well known by its local from all walks of life, indeed suits it's given the name of People's Park. This lovely and attractive park was designed with scenic landscapes of a waterfall, breath-taking gardens, fun playground and naturally vibrant sculptures that speak volume of the great local native people. Markedly distinguishable by its gigantic spiky, durian-like domed-roof, you will walk-through a spectacular view by both the man-made architecture and nature alike. This park is also dotted with many dining places surrounding it.