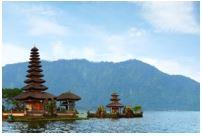 Langkawi, an island besotted with mystical legends and local fairy tales, is home to some of the most beautiful beaches in Malaysia besides its excellent diving opportunities, exciting nightlife and historical attractions. Popular amongst travelling nature enthusiasts and adventure seekers due to its rich landscape of untouched rainforests and exotic wildlife, the island's blossoming tourism industry is also largely due to its tax-free status.
Best time to fly from Kalibo-Boracay to Langkawi
The best time to visit Langkawi is during the dry season between January to March when there is virtually no rain and you get a whole day of bright sunshine with warm temperature. The ocean remains calm, allowing all water-based activities and boat and snorkelling tours to take place. This period also happens to be the hottest time, so be prepared to perspire a lot if you are exposed to the sun. Do carry enough sun lotion with you while visiting Langkawi, particularly during the hot months.
Main airports available in Kalibo-Boracay and Langkawi
Kalibo International Airport - Kalibo International Airport (KLO) is approximately 68 km south of Caticlan Port, which is the main disembarking point from Boracay Island. The journey takes only 75 minutes using the shuttle or van ride. With the upgrading of the airports' facilities following its recent renovations, an increasing number of tourists are flying directly to Kalibo to avoid flying through Manila and Cebu. There is a multitude of transportation options to get in and out of the Kalibo International Airport.
Langkawi International Airport - Located within Padang Matsirat approximately 15 minutes away from Langkawi Island's popular Pantai Cenang and Pantai Tengah stretch, the Langkawi International Airport bears the requisite airport facilities and maintains its no-frills features with a limited number of stores and restaurants. It is the island's only terminal for all flights in and out of Langkawi. It is a very uncomplicated and an easy to navigate place. It would be best if you hire a taxi or rent a vehicle, either a car or motorcycle as there is no public transportation system available around the island.
Climate pattern in Kalibo-Boracay and Langkawi
Langkawi enjoys far more sunshine, dry spells and stable weather although it falls under the same tropical zone as the other parts of Malaysia. The average high temperature usually varies between 31°C to 34°C while the average low is 23°C to 24°C. The warmest period is between February to March with July till October the coolest season.
Highlights attractions in Langkawi
Underwater World Langkawi – Being one of the largest marine and freshwater aquaria in Southeast Asia, the Underwater World Langkawi is the island's main attraction. It is located at the southern end of Pantai Cenang (almost at the border of Pantai Tengah) beside the duty-free shopping centre zone. Among the highlights is a 15-meter walkthrough underwater tunnel where you can enjoy close up fascinating views of sharks, giant stingrays and green turtles.
Langkawi Cable Car – Despite not being the longest or highest cable car, Langkawi Cable Car is one of the most spectacular cable cars rides in the world due to the stunning backdrop of the 450 million years old Machincang mountain range that is the oldest rock formation in Southeast Asia. It is, without doubt, an exhilarating 15 minutes cable car ride with magnificent views high above the treetops of the dense rain forest.
Skytrex Adventure - Regarded as the best forest adventure park, Skytrex Adventure is where every adventure enthusiast must go for flying, gliding, swinging and even dangling! Experience the exhilarating feeling as you set out to tackle aerial obstacles that are suspended above the dense and lush rainforest of Malaysia. All age groups can enjoy the outdoor recreational activities at Skytrex as all the activities are performed under expert supervision with all safety measures well-taken care.